As much as we all love to knit/crochet and cross our fingers (and toes!) to wish for successful completion for every project we start, sometimes things just don't go our way.
Usually the imperfections or eyesores would include things like:
Uneven bind offs (that usually happens at the most eyecatching areas, like button bands, collars etc.)
Button closures that don't work well when fastened (that gaping tiny button hole stretch.)
Discovering stitch mistakes in completed garments (especially when shaping cuts into the lace pattern, making it difficult to follow.)
Ill fitting garments (that means sleeves or garment bodies that are too long/short or too wide/narrow. Or in ladies' case, the finished garments are totally unflattering and sloppy.)
The typical response to the above situations would be an arduous trip to the frog pond.
What most people do not realize is that sometimes, surgery work can be done to minimize the rip-back in entirety.
Yes, you read that right. Cutting your work to do
patch repair
or
mending
or
knitwear repair
as most people refer to. I can think of additional terms:
knitwear re-constructive surgery
(which I will touch on in another post)
or
knitwear revival
.
[Ok, I am copyrighting these terms yah?! *smile*]
Whichever terms you prefer, this exercise still involves
a pair of scissors, a good day (or a few good days), a clear-head, a pair of agile and skilled hands
.
[And some knitters would also suggest a glass of wine for that courage booster. Not for me, though.]
As well as a whole lot of knitting notions such as knitting tapestry needle, stitch holders yada yada... you get the idea.
When Jenny planned to knit a simple top sometime back in the middle of 2009, she wasn't expecting a whole lot of complications. Afterall, she is a pretty prolific knitter/crocheter (see some of her projects
here
,
here
and
here
.)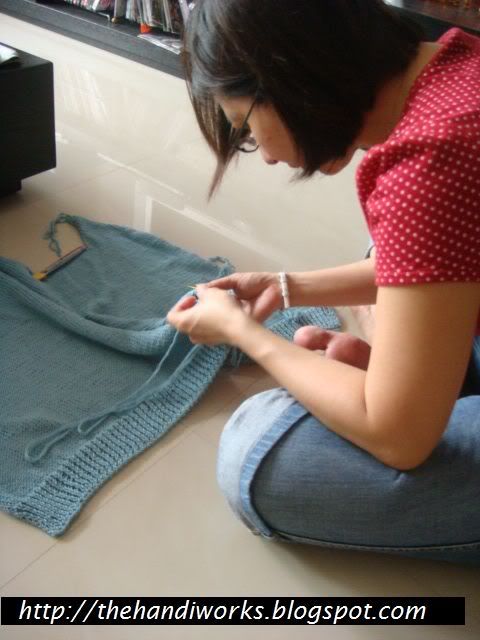 In fact, when she embarked on this project; there was nary a hitch. Besides consulting and verifying the tension that she needed to work on and the number of stitches to start with, she was all good to go. She had the VK pattern she bought to refer to.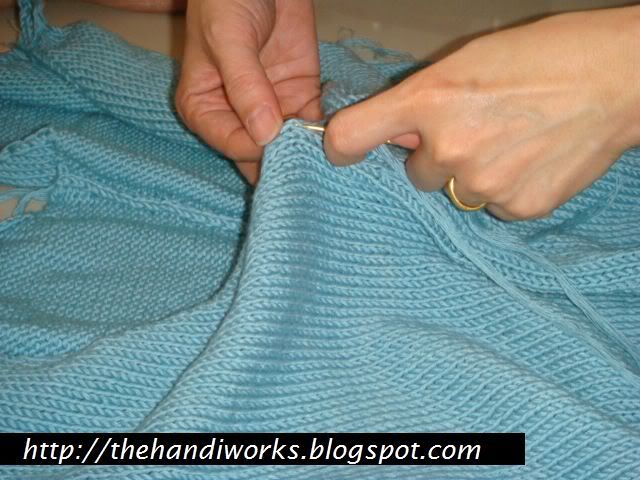 The seaming also went ok. The project went on to completion by Aug 2009. We all thought all is well.
Except after wearing it a few times, Jenny decided that this pattern isn't growing on her. Six months later, Jenny brought it out again and asked if there is something she could do. She figured that even though the garment looked fabulous on that model in VK's knitting magazine, it was just a tad too loose for her liking at the lower hem area.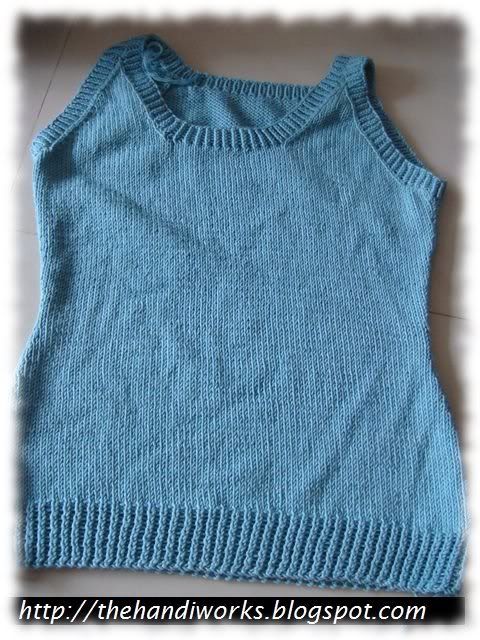 She felt that the upper bodice fitted really well and it would be a tragedy if everything has to come to naught. Besides, she loved the feel of the bamboo yarn.
So treading on thin ice, I suggested taking a snip to remove the lower bodice and rework the pattern design from there. She gave the go-ahead after I explained my approach.
So I went on to snip and unravel the side seams. [That involved a lot of row counting and locating the *right spot* to make the incision to ensure that I don't cut and remove more than necessary.]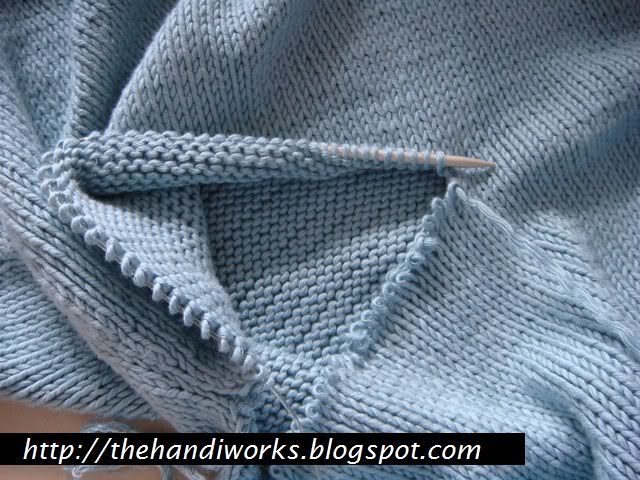 Then the picking up of stitches and putting them on knitting needles or stitch holders.
And finally getting the two top halves on their respective needles all threaded and ready for Jenny to work her magic.
So here's what she decided to go with.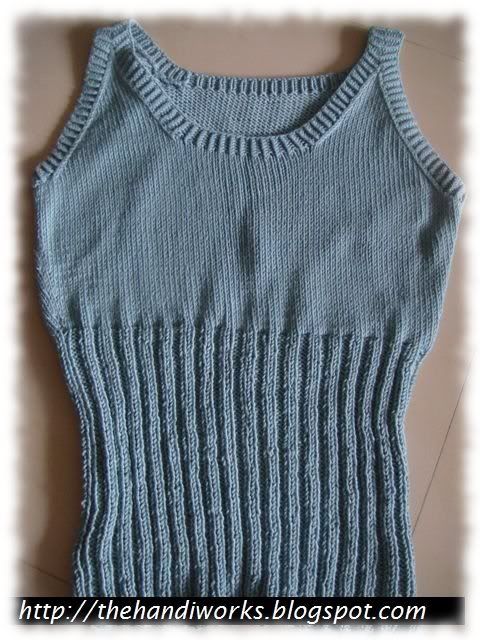 Classic 2x2 rib from waist down. That's what we decided as we felt that we should keep to the simplicity of this design.
This photo is taken immediately after all the ends are tucked. Want to see a photo post-washing?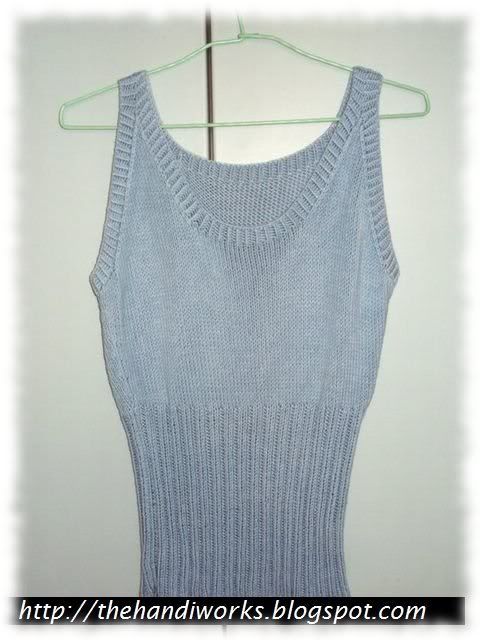 See how well the garment drapes? I just adore the yarn and how the design and construction just accentuates evokes simplicity.
Jenny and I are so glad that this knitting rejuvenation attempt turned out incredibly well -- this is really not for the faint-hearted.
Most of our customers are amazed when they heard of this incident -- they told me that in most instances, they would have likely just thrown in the towel. Either

rip back in totality

and restart or have the

project finished but languishing in the wardrobe, unworn

.
Let's see if I can get Jenny to take another photo wearing this garment sometime!
Sharing is sexy