I know that's a lame title but that's the situation that
Edith
found herself to be in.
For the last few projects she worked on, they are in fact all crocheting. But
Edith
is getting speedier with her project work. Much of it has to do with her coming for lessons regularly.
In fact, we're meeting on a
weekly basis
of late.
This is an interesting piece that she started late April.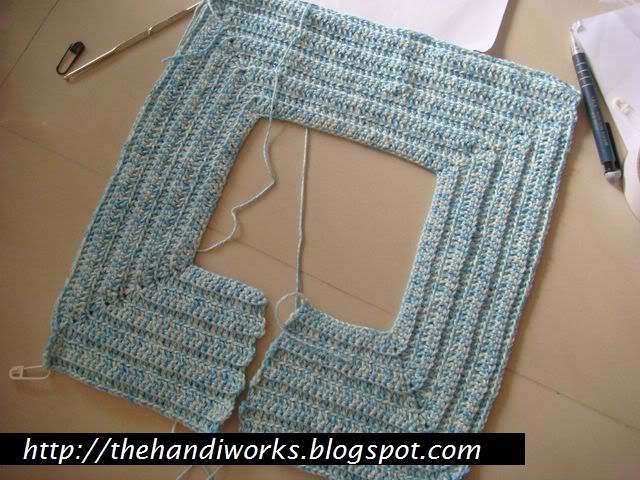 Can you figure out what it is?
If you have figured out that this is part of a garment, you are half right.
More specifically, this is a
top down raglan style bodice
.
When
Edith
originally brought this pattern along, it took us a while to figure how the garment would be constructed. After all, the pattern showed a cute little gal wearing this assemble of crocheted bodice with a fabric skirt.
The instructions are all written. [There isn't a lot of charted crochet patterns unless you look into Japanese magazines.] And
with no schematics
. That really bothers me sometimes as it's
hard to visualize the measurements on all aspects and that's critical to pattern modification work that we often embark on
.
So I walked her through the pattern and drew up the diagrammatic view. I also took time to explain the
crochet orientation and shaping concept
. Edith took notes so that she can go home and take key measurements of her little gal to ensure proper fitting.
After all, no one wants an FO that can't be worn or is ill-fitting. Now that the bodice is complete, I can't wait to see the final result once she attaches the skirt!
PS. If you are keen to learn more about our knitting / crochet classes, please do take time to attend our complimentary previews. Please note the schedule above and email us to reserve your seat.
Sharing is sexy