Having read my previous post on having to model finished knitted garments on mannequins, Jenny came over to my place with their knitted works for a photoshoot! She is certainly sporting!

Jenny's happy to report that the top has been worned and washed several times; with much ease. She's loving it for the fact that all that's needed is for the top to be thrown into a laundry bag before being put into the washing machine with the rest of her usual laundry load.
[Disclaimer: you can't do that for all yarns, do check your yarn labels.]


She's a working mom so when it comes to yarn selections, as with most of the other ladies, ease of maintenance is always key.
If I am slowing down my personal knitting, that has not impacted some of the ladies at all!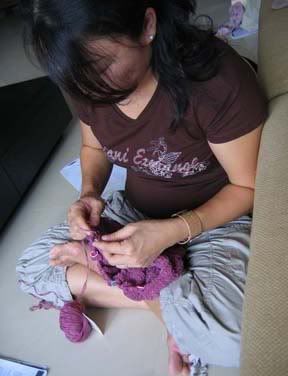 By the time you see this photo, the shrug Linda knitted is already in Tokyo, accompanying her mom. I can't wait to see the finished product!

You see, Linda knits so fast that it's almost hard for us to comprehend how she does it.

If you are thinking this is the start of yet another of her new project, see this next photo.
The earlier photo you see is actually the front half of her project! (Pardon the colors, it's sometimes hard to photograph colored mercerized cotton!) She tells us that

she sets aside her daily night time TV time for knitting

so multi-tasking really works!

Jenny is also close to finishing her Blossom tunic. All she needs to work on is the shoulders.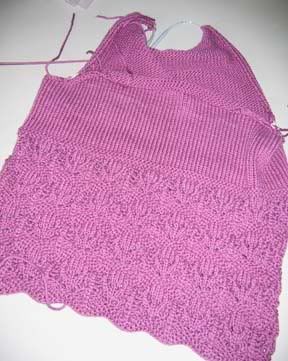 If you are wondering why the color looks familiar, it's the same shade of lilac I used for my front-twist top. This is also a project that a couple of us have bookmarked as future project. This piece went along pretty fast as she has knitted the lace panels in the round before splitting for the armholes.
Leena has gone a little further by seaming her mom's top.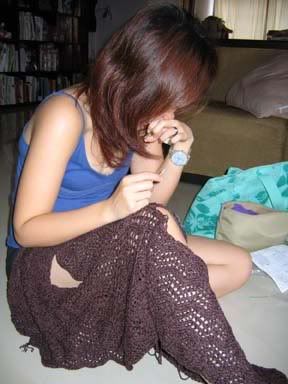 However, she'll be backtracking a little as she told me the sleeves are a tad too long for her mom.
She has finished the second baby top as well. (The one on the left.) Stripes always look cute on baby vests.
All that's missing are the buttons which she intends to get some cute ones for.
Chai Bee is working on her ribbon top.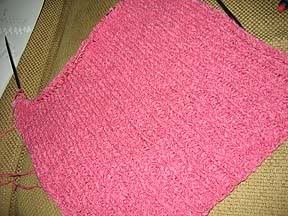 Isn't the color lovely? The fuzzy cosy texture is quite hard to capture so maybe I should do a close up macro shoot the next time.
Intan is also working hard on her baby girl's sundress.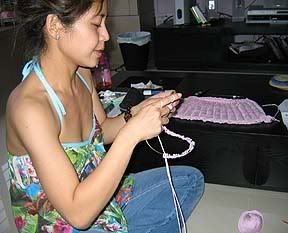 It is coming along really quickly for her and she has gone on to experiment crochet as well!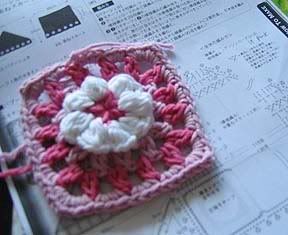 Intan mentioned she has learnt basic crochet before but has never gotten around to making a proper project as she

couldn't read the symbols

. So we chose an easy project for her to start with. She's probably going to be busy for a while!
If you are thinking this is all, you are in for a surprise! There are still some finished projects that we'll be showing you shortly.
Sharing is sexy