In fact, the best part was when we started the

show and tell

.

Around the room, the ladies were showing the items they had brought along. Leena told the story of a sheep-smelling sweater her mom knitted -- apparently when their relatives heard of how much Leena's mom loved knitting a few years back, they bought some wool in New Zealand and gifted her. Somehow the lanolin never really got washed off so the scent lingered.

Leena also brought out that crochet shrug that is setting off the trend within the group.

We have about 5 pieces at various stages amongst the ladies (Eunice, Jenny, DianaH, Catherine, Cecilia & of course, Leena's ) and it seems that the shrug still does attract attention whenever it's being displayed.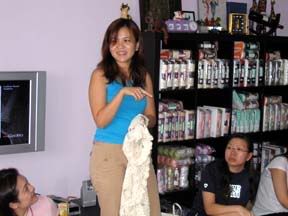 Joanne also shared her experience of coming to learn to knit.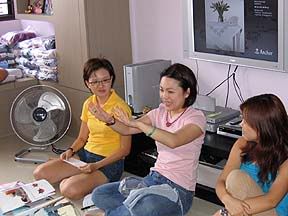 You can see that she's got the audience enthralled.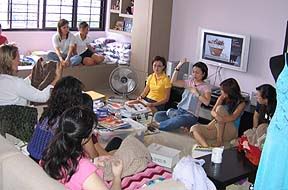 Tracie also showed the capelet she made previously. The tension of which is so tight but it turned out really well.

Susan also had her story to tell... an amazing one that I kept asking her to share. A similar story of a too-tight tension and completed garments that she wasn't happy with; so much so that she didn't bother to tuck in the ends!

Catherine also showed the shrug that she knitted for her mom but she swore she would not knit another piece again!

(Those endless ribbing!)

But she gamely put it on so that others could have a feel of how it drapes.

A heirloom piece was passed around...that's a baby capelet made for Catherine when she's young. [Which reminds me of a yellow cross over vest I received when I am little. Hey, was yellow the color in vogue then?]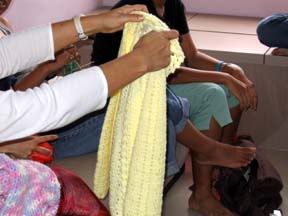 Renhui also showed the cute teddy bear which is in progress.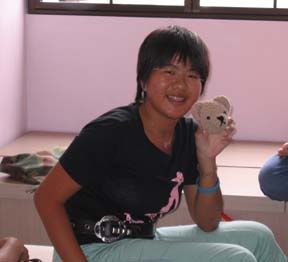 Doris brought along her socks and Louise had a big poncho in progress to show, that is knitted using large needles.


The session is so captivating when you hear the laughter, squeals of delight and nods of synonmous agreement when the stories are being told.




Fonny and Annabella looks on.
The garments and displays would be up next.
Sharing is sexy