We have that much response for lessons last weekend that we ended up organizing two weekend group classes, one on Saturday and the other on Sunday. I have a nagging suspicion that everyone is intending to get a headstart in order to knit / crochet on the National Day holiday.

Not only that, we have new people joining us. Susan, who I can't seem to get a photo of, just yet. She's been knitting for the last 3 years and apparently, very unhappy with her FOs that she has to date. And I found out why.

Joanne also joined us on 2nd August. Leena happened to drop by that day; my place is becoming a sanctuary -- the first place the gals think of coming by when they have some free time. [grin]

See how we gals just simply warm up to each other?

Just 3 days later on Saturday, Joanne came over again.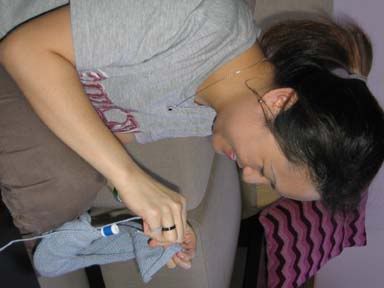 This time, with 30 rows of her back piece completed.
She is working at breakneck speed, I tell you! She's a fast learner too.

Susan has also come around. In fact, she has the habit of starting both her front and back pieces at the same time. I find that unusual since the normal practice is to finish a piece, then move onto the next but I am sure it works for her since she's really quick too!

I wanted to see Jenny's project progress, now that the baby jacket is out of the way.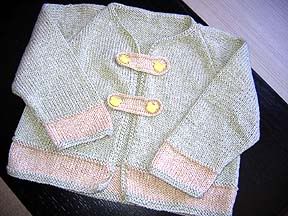 I had to reshoot as the consensus is that the garment against our pale floor does not do it justice.
This time, with her other WIP, I demanded that Jenny puts it on so I can have a better idea of its fit.

My opinion? I love it. See how the waist is nicely fitted? [She had to pinch the fronts so that you can see the waist shaping better.]
It's a cardigan, so don't you ever suggest to her that it looks good the way it is as a VEST.

She wanted to murder me when I pondered out loud; as one of her sleeves is almost completed while the other is 70% done!



To think that I simply went ahead and designed this cardi and did all the calculations with a tentative measurements Jenny's given me; coupled with her blind faith.

Of course along the way, I had Jenny measuring every so often just to make sure everything's A-OK. [The usual disclaimer: Jenny's been with her for quite a while and I know her knitting tension, her dress style quite well so it's definitely much easier to do something like that for her.]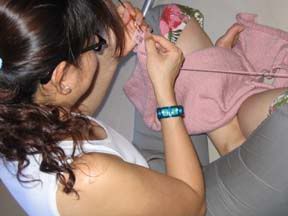 Now, Jenny is ready to do some major edging work!
On Sunday, we had yet another class.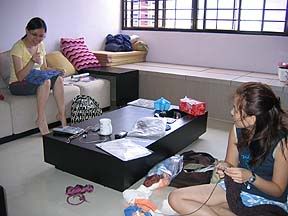 Eunice and Leena were the early birds.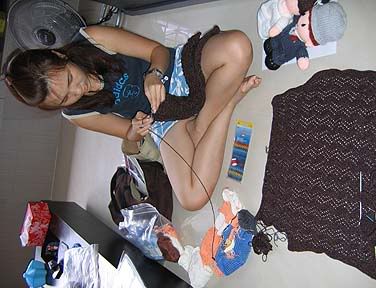 Multiple projects are the orders of the day. You can see that Eunice has *almost* ditched her red lace project in favor of her crochet WIP -- the latter is more than halfway to the finish line. In fact, the sleeves are already started for the red cardigan so hopefully we can get to casting on the front pieces the next time. Not only that, a simple baby project has been decided upon -- that'll be Eunice's alternative switch-to project for some mindless knitting.
Leena brought along her dolls for seaming & stuffing. The mom cardigan is also brought along for a quick inspection.
Then, the gal-who-shall-remain-faceless is here.
Alright, I'll spare DianaH this time. She was up early Sunday morning to go to her client's work site!

[Yup, that's right... working Sunday morning!]

Her crochet progress is moving along quickly too. DianaH decides to move onto sassy knitting -- the project is identified, the yarn is being selected and so we are just waiting for her to come around and begin!
Jessie, whom we haven't seen for a very long time, has also dropped by. Apart from working on her jacket, she also started with a new baby top for her soon-to-be-born son.
My friend Cecilia has also picked up crochet too! We'll see how her progress goes.
Sharing is sexy