The last 2 months was spent with the magic hat and wand (no, and I don't mean the Harry Potter kind). There was a lot of time spent on reviewing the activities to date and moving forward, how we intend to work this better. More importantly, I am back on that self-imposed internet connectivity cold turkey. It's interesting to see the extra amounts of time I gain by not gluing myself to the PC.

But I digress.

The knitting classes went on as usual, with a lot more new faces/participants. It wasn't until I saw the 300+ photos of the various WIPs, group class photos and finished knitting projects that I knew it's time for a major update; not to mention the ladies who keep reminding me about my lack of posting activities on-blog each time they come for classes.

So let's talk about bags and garments.

Remember the crochet bag Jenny did back in April
? She didn't like how the finishing looked so there was a second attempt at perfecting it.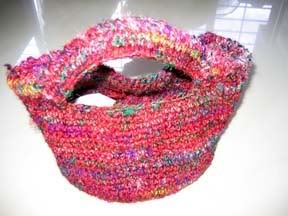 Felly also brought along the crocheted striped bag she did the last round to show.


Don't those colours just simply cheer you up?
Apart from the occasional small project items that we venture into, garments are still usually our mainstream projects. Since we are investing so much time and effort into knitting, we might as well wear them out as often as we can. It makes sense, doesn't it?

Jenny has this lovely top made sometime ago that uses a combination of knitting and crochet techniques.

Simple colours but the crocheted flower straps do brighten up the top visibly!
Linda, on the other hand, opted for earth tones.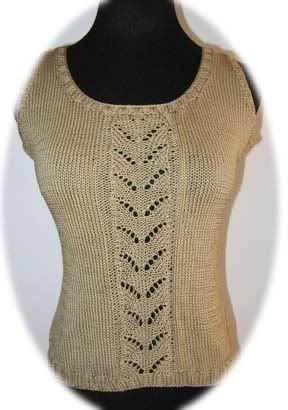 It's cooling to wear and easy to maintain - perfect for everyday wear. Just put the garment into a laundry bag and toss it into the washing machine is all that's needed!
Whereas Linda and Jenny are inclined to fine knitting, Esther loves to work with large needles and yarns that lend a certain structure. Here's a shell Esther knitted for herself recently.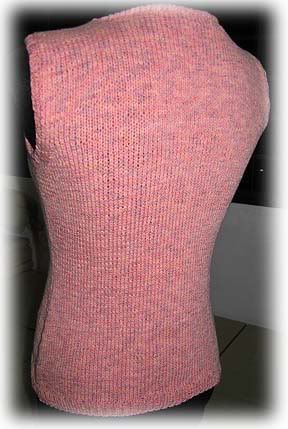 The variegated yarns lend themselves to simple knits really well. This yarn is lightly muted and textured. I can't wait to hear Esther's review on this garment!
And, if you remember the May 17 post where Chai Bee is
finishing up that sexy little number
-- that is all finally seamed up!



If there is any concerns about it being too revealing, Chai Bee is happy to report that the copious amount of lace yarn overs aren't as obvious as they are when the garment is worn. Not only that, it just took merely a little over 4 balls of Top Soft yarn! Geez, she's breaking all the records of the least amounts of yarn used for a wearable top! *Grin*

Leena has a similar piece knitted up too so we'll show you that too the next time round.

Looks like I have to start knitting furiously to catch up with them!
Sharing is sexy