We're already in the month of September and everyone knows what that means....bring on the needles! When it comes to preparing gifts for our close friends and family, every knitter knows that a handknitted gift conveys our thoughts and well wishes to the recipient better than a store-bought one.

That's why there was a sudden flurry of activities in the last 2 months when new knitters came onboard. To give themselves enough time to learn to knit and iron out any kinks before moving onto the gift list. And interestingly, most of them seems to be into

cable work

.


Here's

Melanie

. She's new to knitting and she used some variegated yarns to add some color and interest to her first project.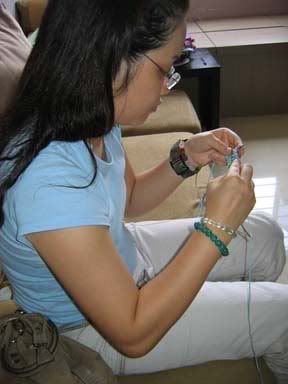 Then there's also

Zann

whose style is also very much casual, dress down. She's done some knitting before but this project is her first stab at learning to cable.


This number she is working on though, is a very wearable piece for it's a halter that'll be great for those hot summery days.




Hilda

also joined the club by picking a project that has some interesting layout. As opposed to the typical knit from bottom up, this piece she knitted has 2 orientations -- a

sideway knitting profile as well as upwards

.


She's really earnest when it comes to learning new techniques.


When the top is finally at the seaming stages, we are both so delighted!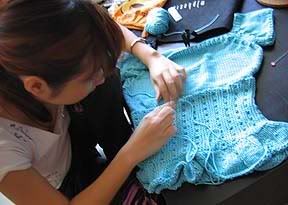 Now I can't wait for her to share an FO (finished object) photo. We didn't manage to get one the other time as

Hilda

's decided that the dangling untucked ends wouldn't do the garment any justice.


Then we also have Jieyun who previously took a year on her own to learn to knit a ribbed scarf. She's figured that having help on hand is not a bad idea too!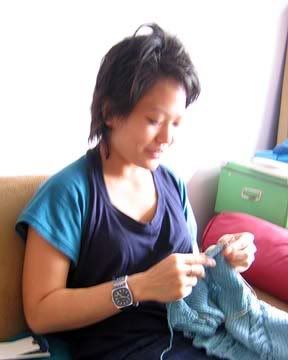 Isn't the yarn gorgeous? She has intended to knit up a simple shrug to tote around when she zips around in town. The airy, loose weave looks really breezy!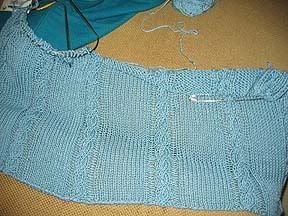 If you think this is all, there's more!

Leena, Jenny, Chai Bee and the other ladies

are also keeping busy. There are quite a few FOs and some of us are already planning projects for festive gifting!

Sharing is sexy