That's exactly how long Leena took to finish her hubby's vest.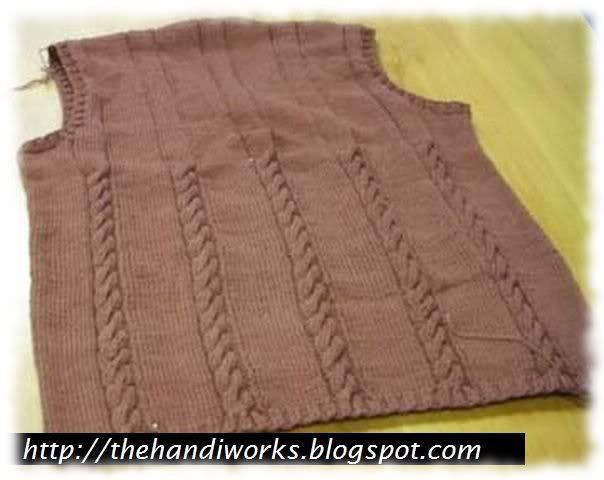 Considering this is her

first knitting project

, I have to salute her!
That has got to be a new speed record for beginner knitters! The gauge on this thing is close to 26 sts /34 rows per 4 inches and it's 4 ply cotton on a 3.5mm needles so this is considerably a fine knit!

But then again, she's a really speed demon. I saw her last Sunday during the group class and was just teaching her how to pick up the stitches around the armholes and the collar. Just less than 3 days later, it was done!

[I know she was done Wednesday morning as she emailed me the still photos above then.]
I still remembered when Leena dropped in for her first lesson
. That was a pretty intensive 4 hours session -- she learnt

how to cast on, knit, purl, read the stitches on the project, to rib, fix basic mistakes and to cable

. That's quite a lot of things to remember! I am amazed she managed to take everything in!

The second lesson is when Leena learnt how to fix cable mistakes
. And the rest, they say, is history

[you can read past entries if you are interested.]

And I'll let you into something too:
Leena's to-be hubby, Ray is so pleased with this vest she knitted that he's intending to wear it for their bridal photo shoot!
How sweet and thoughtful is that!
Not only that, I got a chance to meet him in person when Leena decided to bring him around to my place yesterday. So we got properly introduced. He's such a good sport, I tell you, when he gamely dons the vest for some quick modelled shoots!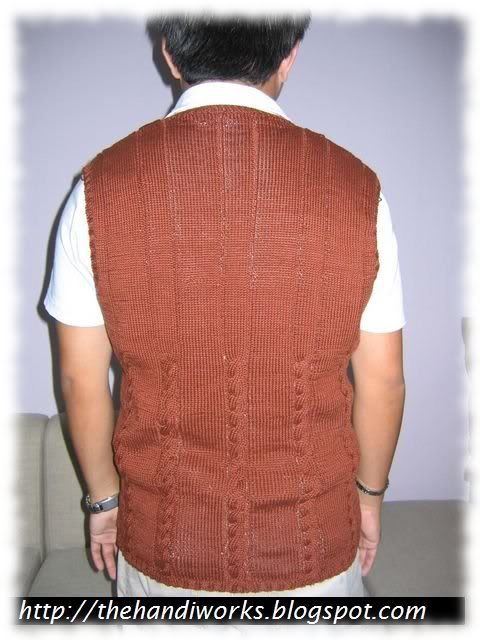 Well, Leena is so lucky to have found such a sensitive and thoughtful hubby. And Ra
y must be proud to have such a loving and attentive wife! Best wishes to both!
PS. This is not the last you'll see of Leena on this blog. She's on rapidly moving onto her other projects but I heard another one is in line for her hubby again since he's such a wonderful recipient!
Sharing is sexy