We have newcomers joining us in the foray of knitting in Singapore.

Firstly,

Leena

who is really keen on knitting a vest for her hubby to be.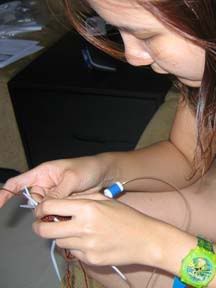 She decided that she'll be up for the challenge of cabling so a cabled vest it shall be.

By the end of her first session, she has picked up the skills for casting on, knit, purl, ribbing and cabling too!

What a gal! That was just well within 4 hours and it must be a record. Not only that, we have worked out all the numbers and pattern repeat needed so she's all set to head home to start casting on and work on the ribbing straight away.
Next,

Gennie

decided to drop by and took on a lesson on knitting.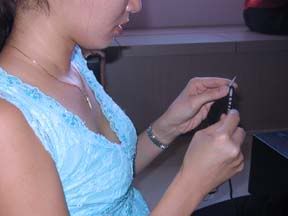 Another vest in the works. We'll report more progress as they move along.
In fact, we're having a semi-private group session this Sunday and some of the students would finally get to meet one another! A series of Clickety Click Knit & Stitch sessions are in the planning works starting from March tentatively -- the last 2-3 months of festivities must have drained a fair bit of energy from everybody.
Sharing is sexy