Here's a couple of progress photos of the various projects that are underway:

The back piece that

Felicia

is working on:

She is working on the armholes. She started her first lesson on Jan 23, just the weekend before Chinese New Year and she's zipping along like a speed demon on her work! And mind you, she's still doing intern work (that means regular working hours like the rest of the workforce) so it's really sheer persistence.


And speaking of progress,

Joey

's got something to show too!

She has gone home and knitted both the front and back pieces. She brought them back just to clarify further instructions up ahead. In fact, she is getting very proficient, I should say given this pattern isn't easy to begin with.
Isn't the stitch pattern lovely?
I have also gotten my Mom's shrug completed.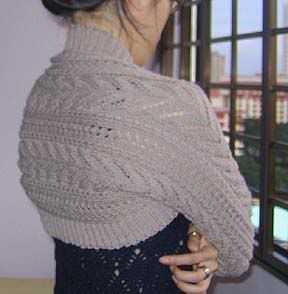 In fact,

Joey

tried the shrug on when she came over. She fell in love with it and we both agreed that it's an item that she could knit for her mom. She has selected some stitch patterns which we'll replace as fillers in her mom's shrug.

Some of you asked if I conduct lessons in the weekday evenings. The answer is a definitely *yes*. In fact, these 2 ladies come over regularly in the evenings. I just recommend that you start your first lesson in the morning or early afternoon as you are most alert.

Sharing is sexy