Last week, some of the ladies are already at the finishing phase.
FeliciaW is anxious about sewing the pieces together as she is targeting to have the whole garment ready by end of April.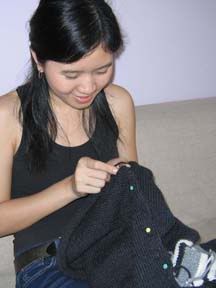 Her anxiety also stems from the fact that the tension has loosened right after she finished the back.
When we are seaming that does not seem to be a critical issue.
Besides, I helped her
re-work (yes, bring out that calculator!) the knitting instructions
for the sweater for areas like the armholes, the collar and the sleeve length etc.
Similarly, Leena's fast finishing her hubby's vest.
Two weekends ago, she came over for the seaming.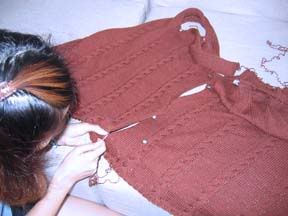 For the group class last Sunday, she has brought it in for my review.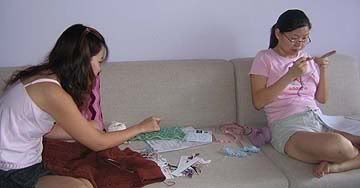 Both Leena and Fonny started on their first-ever crochet project -- co-incidentally, the same pattern but with different yarns so the

resulting gauge and look will be different

.
[No worries of duplicate garments!]
Here's a closeup of the crochet pattern, in testing mode.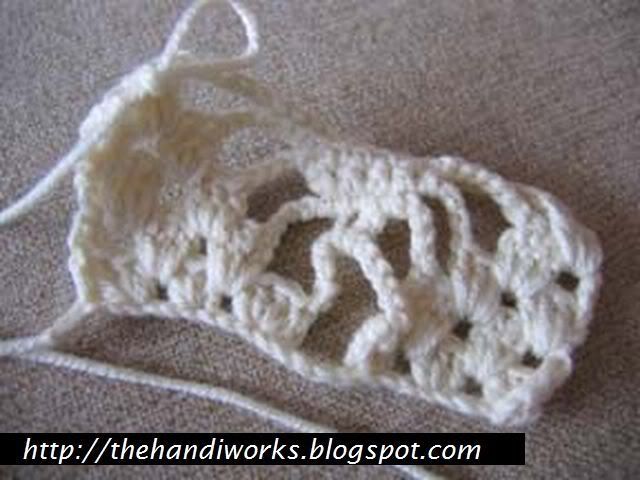 And there's something else Leena brought along:


That's the second knitting project that she started; right after her hubby's vest.



So current WIPs count?
Leena 3 (2 knits + 1 crochet)
Fonny 2 (1 knit + 1 crochet)

PS. I'll not join the WIP count myself lest you fall over as you'll need more than your 10 fingers. [grin]
Sharing is sexy