This is a constant subject that I battle with for the last few years.
Whenever I want to do gifting, I always feel that a handmade item always demonstrate sincerity and extends that extra bit of personal touch.
However, if you tend to be a procrastinator or is a multi-project juggler, you would realize that time always hits you sooner than you imagine.
Thus, managing expectations is important.
But then again, who dictates that gifting should be done only at Christmas?
Esther
, the multi-tasker-super-mom of three, decides that she needs to get a project for
her daughter who has really grown a lot since this photo back in 2006
.
Apart from the knitted halter top and a crocheted shrug which I didn't manage to get an FO photo of
(so please do use your imagination!)
, she decided that a cute beanie or beret would be a rather instant gratification project.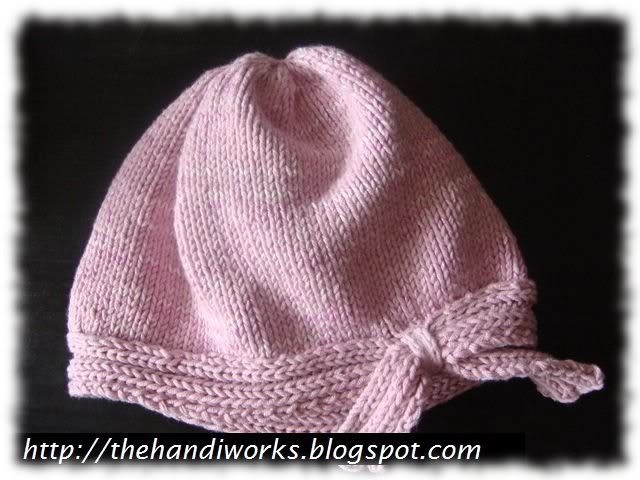 Initially when she had the beret knitted up, she felt that it wasn't as fitting since the brim edge tends to ride up. So we decided to add in an additional band to provide more length as well as tighten up the beret to ensure a better fit.
Lastly, a ribbon to prettify the project. Isn't it adorable?
I can't wait to see the actual fit!
Esther
is totally happy with the improvements! And her daughter gets a precious handknitted pre-Christmas gift!
So have you started on your Christmas projects yet?
Sharing is sexy