When coming to pattern selection for a first time knitter, the task is sometimes very daunting.
Most of the time, when customers want to knit, they may already have a person in mind they would like to knit for. It's either babies or their other significant half.
When
Gowri
approached us, her intention is to knit a sweater for her fiance. It was meant as a present prior to their wedding ceremony. How sweet is that?
So we set out to review the patterns that she can undertake.
Her requirements:
long sleeved pullover sweater

cold weather wear

easy to care for

more than one color

easy to knit

can be completed within 3 months
Notice how the "easy to care for" is a constant recurring theme?
Given our hectic lifestyles these days, many are realizing that the importance of easy to launder and maintain garments. If the yarn used pills easily or can only be handwashed, the garment in question is likely to be thrown into the back of the closet and not be worn as much as it should.
We then settled on this pattern as a point of reference.


It is from Vogue Knitting (VK) 2002 Special Edition for Mens<.
We referenced the idea of the color blocks but made several modifications.
1. Firstly, the pattern sizing was re-gauged and re-calculated to suit the merino wool that

Gowri

has chosen as well as to fit her fiance.
2. As she was initially struggling with the concept of ribbing, we omitted that at the edge and started with knitting first. The ribbing band was only added in at the end; i.e. it was picked up and knitted downwards.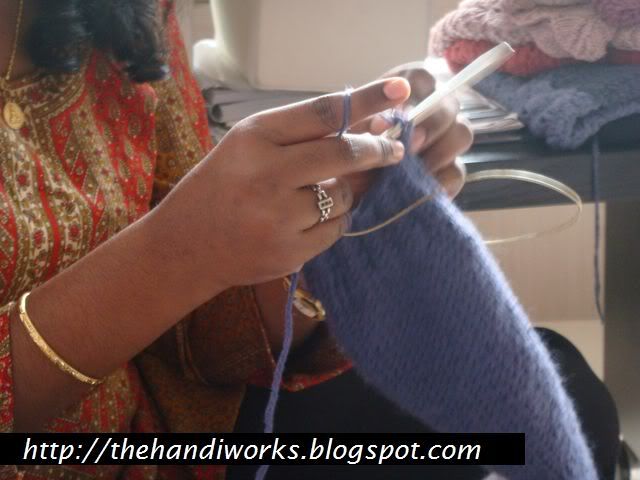 3. We also changed to simple drop shoulder sleeves as they are easier for her to manage when she was off on her trips to India. In short, it's all about making sure that she knows how to do basic mistake fixing and the instructions needed to make progress until she comes back for a further project review.


4. The neckline is also modified.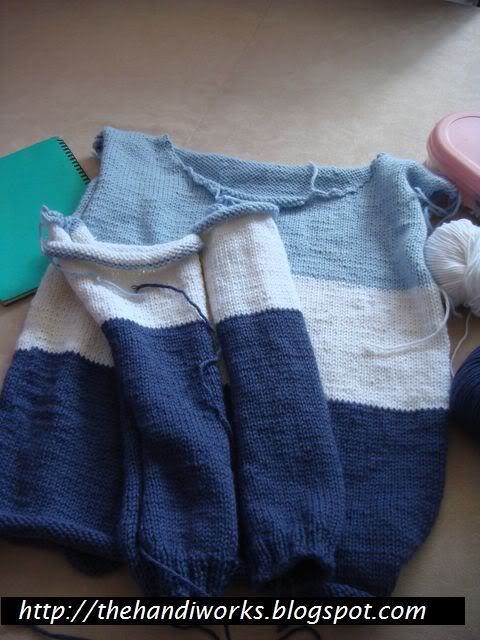 Seen here all the pieces ready for seaming!
The project has taken a long time to take shape as Gowri was travelling regularly between India and Singapore for her wedding planning.
But in the end, we are very pleased with the final result. And she gave a thumbs up for the chunky merino wool!
This photo is taken immediately after all the seams are in place. So a good gentle wash and ironing will remove any kinks and make this a fantastic gift!
If I told you that she has been incredibly nervous and panicky during her few two lessons, I am sure you wouldn't have believed me. This is her first project and I am so proud of her!
Sharing is sexy