When new customers come to me, they always ask: "Is knitting hard to master? Can I learn knitting easily?"
My affirmative answer: Yes!
As a knitting and crochet enthusiast, I have been honing my craft for the last
FIFTEEN years
and as an instructor, around
FIVE years
(yup, I checked up my archives.)
When
Regina
first contacted us, that was her fear. She wanted to knit a scarf for her boyfriend but was worried that she wouldn't be able to pick up knitting and have it completed in time for his overseas trip.
But the worries was unfounded.
She learnt the most versatile and universal manly pattern to create the 2x2 ribbed scarf.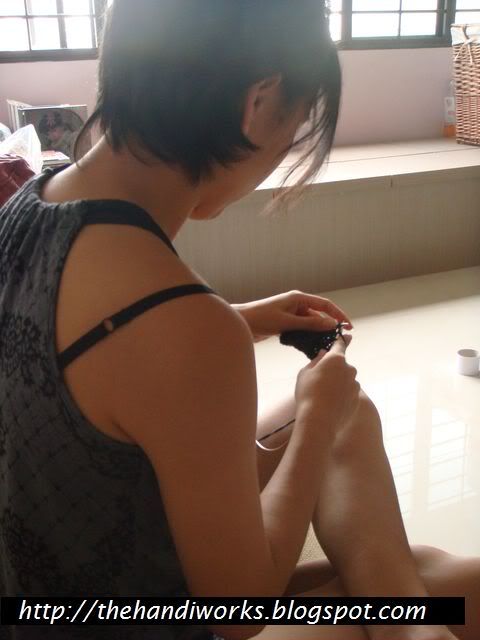 And while she had her initial apprehensions, it soon went away after she commenced on her first lesson.
Likewise, for our very pregnant mom-to-be,
Paw Chuen
has approached us just barely 2.5 months prior to her delivery. She decided that she would love to have her little one wrapped with love in a hand-knitted blanket by her.
If you could remember the blog entry I wrote in February with regards to
preggie moms being a little more forgetful and distracted
, this is the situation we faced.
Hence we decided to go with the freeform knitting -- the freedom of not having to conform to a fixed pattern or chart makes it easy for Paw Chuen to knit without racking her brains or keeping track of patterns.
Here's a snapshot of her WIP.
To make the knitting manageable and portable enough to be carried around for knitting on the go, we have decided to knit the blanket in strips and then seam them up together afterwards. The use of different colors would also add some vibrancy to the finished project.
We had just done 2 panels and stitched up to give
Paw Chuen
a better idea of the final outcome. Her fears of the project looking amateurish was totally gone once she saw this.
And
Paw Chuen
just loves it!
In fact, I also suggested a knitted border to go around to give it a more stylished look. Wouldn't you agree?
As you can see, first projects can be tailored for each individual once we understand what your requirements and limitations are. This in-depth consultation is what drives customers to join us for our private format classes.
I can't profess to be the best knitting or crochet instructor but many of my customers tell me otherwise -- we have all come to agree it simply boils down to open communication, mutual respect and trust between the instructor and the crafter and having a common end-goal that is well-articulated. Oh, and did I mention that having

PASSION

and

PATIENCE

helps too?
Sharing is sexy