We just had another Melissa join us.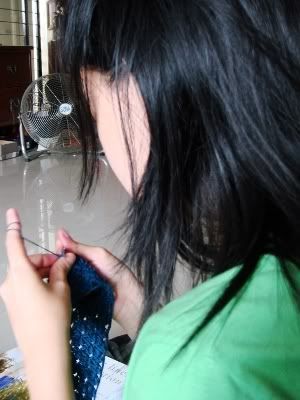 She's Melissa F. She has been learning knitting for the last 2 months and when she came to us, she wanted to learn how to crochet.
The reason?
She bought a pattern book mistaking the project she liked as a knitting pattern. She only realized it's a crochet project when she got home.
Anyway, she is doing quite well with the progress and is planning to get a knitted project started for her sister.
As for Melissa Q (
seen here
), she's now progressing along to the color work.
This, I kid you not -- the actual color areas!
This isn't quite a portable project at the moment as she needs to refer to the chart constantly as well as handle the various yarn bobbles -- winding yarn butterflies didn't work as we needed larger amounts; the ziplock bags seem to work better at holding the yarns in place.
I can't wait to see the WIPs!
Sharing is sexy