It seems crafting is gaining momentum again. Many are turning to crafts as outlets for self-expression and stress relief. Others view knitting and crochet as a way to create "gifts from the heart" for their loved ones such as family and friends. So what a better way to stop and smell the roses -- by creating those crochet roses with your every own hands?

Well, we did just that. Recently, we organized a one-time group session specifically for that purpose. We

kept the select group small

in order to find out if it's feasible for us to conduct future sessions like this -- there's a first time for everything right?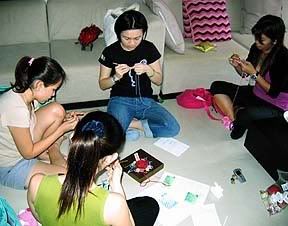 It helps that everyone has some crochet background as it took a while to get the session running. Everyone is more familiar with the japanese crochet symbols as opposed to written english abbreviated instructions.


So the session was unusually quiet, with occasional bursts of "slap the forehead...darn it" actions as well as self-muttering.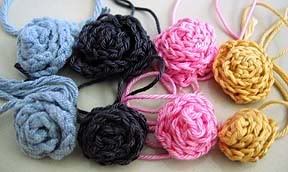 Here is the first round of roses they each attempted. Purty, aren't they?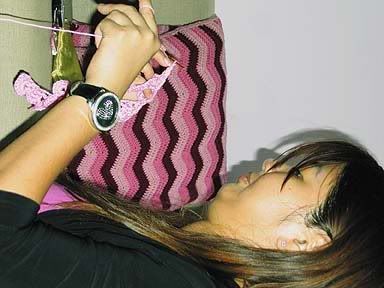 Everyone is concentrating really hard on their work and had no time for the camera. Except for Diana -- despite the fact that she is heavily sedated with her cough mixture, she's still pretty upbeat.

But as we progressively moved to more crochet flower styles, everyone became more relaxed.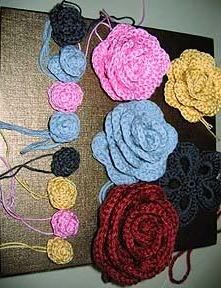 We also ended up having fun laying out the various roses.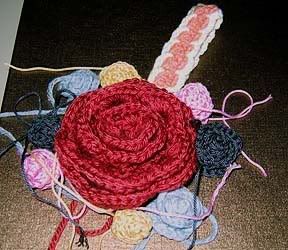 Oh, and of course, the obligatory ROSE & LEAVES shot too!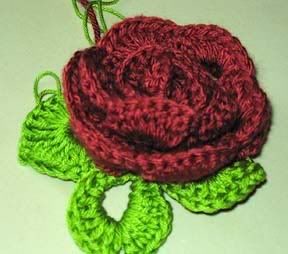 In short, this class has been a success! Thanks to Leena, Chai Bee, Joanne and Diana for participating. We look forward to organizing more of these series next year!
Sharing is sexy