It's always interesting to observe how the gals either skew their favors towards either knitting or crochet. It seems that the common consensus is that whichever skill (knitting or crochet) that one picks up first, that will then be the favorite activity.

On the knitting front, there are some projects in progress.
See how Chai Bee's knitting project is coming along?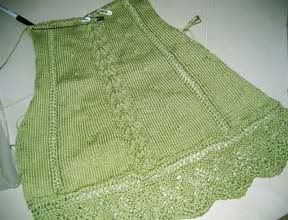 Jenny's also working fevertly on this tiny number (for herself, no less) using 4ply cotton.



The good news is: I believe she is halfway on piece #2. And yes, there will be no sleeves!
Fonny is also doing pretty well on her knitting this time.


I am hoping to see the finished garment the next time she drops by.


Of course, our Speed Goddess Leena has her dress #2 finished in time for her wedding!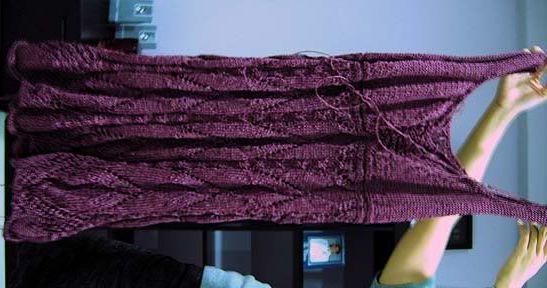 I haven't got to see the dress post-wash -- she'll just have to share lots of photos of her wedding since there are signs of her knitting and crochet passion everywhere!

When it comes to finished products, we have scarves to show as well!

See this cute model?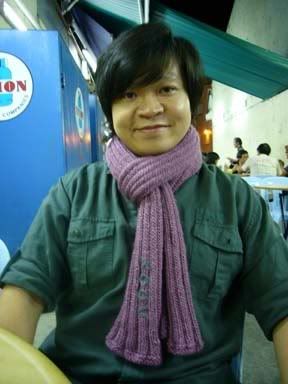 That's Lianshi's pal. The Silkdream that's of 50% merino and 50% silk is so luscious and to die for; she almost didn't want to hand it over to him!
But when Lianshi intends to gift, she does it with all her heart -- look at the initials she had sewn in.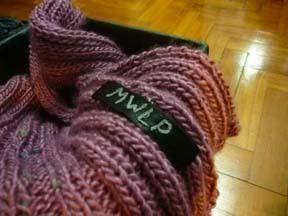 And that little tag she made. Isn't she cool?
DianaH also finished her red scarf and had it all wrapped to be presented to her friend.


Not only that, her crochet shrug is also finished. And she is certainly relieved. The last I know, DianaH is knitting up scarf #2 for another friend who will be heading to Hong Kong!


When it comes to crochet, JoleneS is a staunch believer. She has started her hubby's vest the last trip but somehow, the progress on the knitwear is lacking.


On the other hand, the baby cardi is ready for joining together.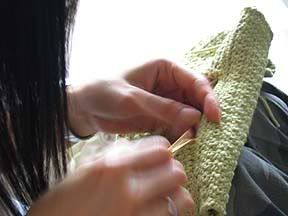 JoleneS sewed and crocheted.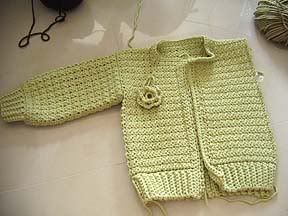 In fact, by the time she is ready to leave today, the baby cardigan is close to finish.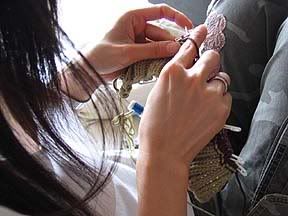 She did have to knit on her hubby's vest a bit as I wanted her to be sure of being able to cable. She did well.

Serene is more than halfway on her crochet shrug that she wanted to wear for a dinner this Dec 09. (that's this Saturday!)





That was last week's progress shot. She also had to pick up the cuffs and knit those.





To which, Serene's comments are:
"I can't believe why I used to complain that dc crochet (her first project) is so hard. This flower motif that I am now crocheting requires so much attention that my first project is now seems to simple in comparison. I even took one section of the first project apart and redo so that the tension is more even!"



Serene also wanted to knit a scarf for her MIL who is going on a China holiday late Dec. So she decided to cast on for a chunky scarf that is pretty, yet fast to knit up.


See those huge needles?! Talk about extremes!
Sharing is sexy