I had the opportunity to visit Yvonne's beautiful home sometime ago. She requested that I go over to conduct private knitting lessons at her residence since her kids are on holidays.
[I am sure by now, everyone knows I do offsite lessons that are conducted at customers' premises upon special request.]

Yvonne had stalled on the flower motif so it was time to introduce her to charting. Initially the idea of having to re-chart sounded so daunting, I am sure Yvonne had a panic attack. Besides, she hasn't been knitting for a while so she was pretty hesitant.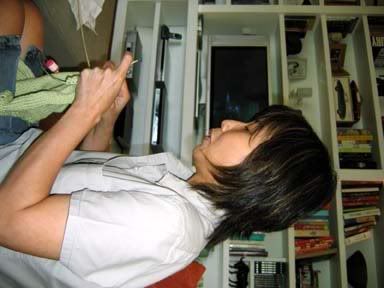 However, once I walked her through the process, Yvonne visibly relaxed. In fact, she learnt and absorbed so much more that I suspect that the critical factor would be the environment. Yvonne is so much more relaxed and comfortable in her own home (and I am sure, that's the same for everyone else) than she was in my place that her learning pace accelerated tremendously.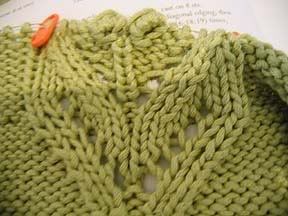 In fact, by the time, I am ready to go, she is halfway through the motif. And was so ever ready to continue on her own.


I am hoping that the next time I see her, we are ready to start on the sleeves!
Speaking of elsewhere in Singapore, Shawn has her very last 2 knitting sessions with me before she leaves for London.
I am so sure by now, the hotel staff recognizes us and must be whisphering, "Not that 2 ladies again! They are armed with more weird bits and parts and needles!"
Shawn is such a fast worker. By the last session on Sunday, she was ready to sew buttons onto the baby cardigan.
I wished I had remembered to do a close up photo -- they are such lovely bear buttons!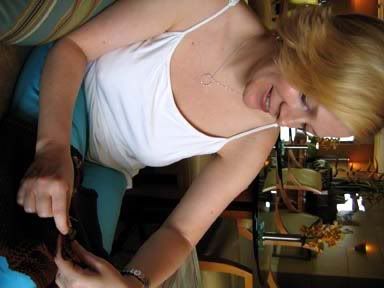 And there's the usual checking work to be done. That lesson was firmly ingrained into Shawn due to a little incident.
On Saturday night, around 11pm at night, Shawn is still furiously seaming and joining the sleeves on this particular brown baby cardi (as you see above.) And quite pleased with herself, for she managed to get both sleeves sewed up.
However, the next morning, to her horrors, her hubby excitedly took the cardi for a closer inspection and then pointed out, "Honey, are you sure the sleeves are supposed to be non-matching? Coz one of the sleeve seams is pointing upwards!"
And he was really tickled when he discovered the faux pas as Shawn is usually very meticulous.
Let's say we'll blame the dim lights and wee hours ok?
So Shawn decided to ask me if I could help fix it. And fixing we did.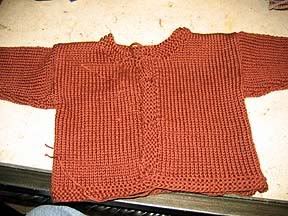 I am so proud that Shawn showed such great interest. Within eight sessions in less than 4 weeks, she has actually managed to complete 2 out of the 3 planned garments! Way to go, gal!
The 3rd one only had the sleeves to be joined in and the collar completed. I am sure if Shawn decided to call it a vest, we would have considered it done too! [grin]
Here's the photos of the finished garments.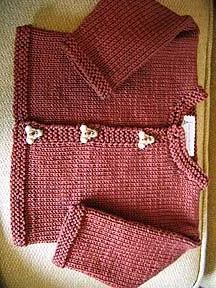 They are awesomely cute, aren't they? I am sure they are still probably a little big for baby Spencer but I do hope to receive pictures of him wearing them sometime soon!
Sharing is sexy