Early into the month of July, we are beginning to see the signs of projects approaching the finishing line.
Jenny has gone back to the baby jacket that she is knitting for her colleague. Isn't that such a nice gesture?
Catherine also dropped by and show the progress of the first cabled project she has been working on.
A real ornate shade of orangey red. I personally like the color a lot; I bet you do when you see this garment in person. And of course, with the first piece so close to being finished, Catherine had to start on something new.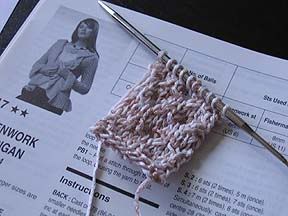 That was the last of what the supplier had in stock as it was ordered in small quantities. Of course, other colors are still in availability.
We also had new gals joining us...
Julie

who has mostly being self-taught for a while but decided that learning via a one-to-one instruction has accelerated her understanding of various constructions much faster. "Much like suddenly seeing the light(bulb)..."
In fact, right after her first session just this week, Julie is all ready to go home and cast on her project! She is more aware of

her tension, the need for swatching

etc. And obviously Julie asked quite a few questions to clarify what she has previously learnt so it was definitely a good experience for her.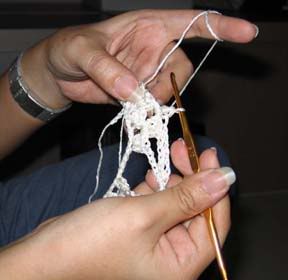 And there is also the lady who would only show her hands...

DianaH decided that she will give you all a nice photogenic shoot when she's all pretty the next time.

DianaH wanted to learn to crochet as her mom knew how to when she (Diana, I mean) is much younger. She has vague memories of learning to crochet from her mom and so reliving those memories and experiences is what made DianaH decide to pick up crochet all over again.

And so, it was a 2.5 hours worth of first lesson for her. By then she also began to learn all about how to tension her yarn and hold her work properly. And she kept going,

"No wonder I couldn't get my tension/work to lie flat!"

"Ah ha! That is how you unravel the yarn for slack."

I guess we all have our ah-ha moments at times. :)
Sharing is sexy