Several students have joined us lately.


Here's Sheen.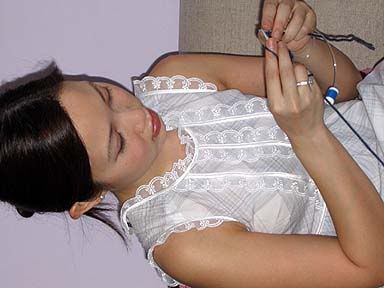 She wants to learn knitting so that she can keep her hands busy on her long US flights. And here's what she has managed so far on her

first knitting attempt

.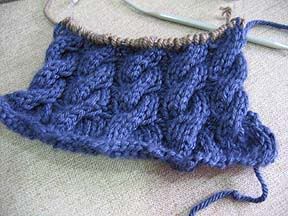 I love the color! Do you?
And there's Esther.
Esther
is a knitter and have completed 2 baby garments. However, from what I know, her previous knitting experience have not been very positive. But having attended the private 1-1 session with us, Esther is very upbeat about what we have to share in terms of our knowledge.
Esther has been pretty overwhelmed by the amount of information that we are heaping on her!
But rather than being deterred, Esther has in fact, picked out a hairpin lace project and is planning to learn to crochet too; upon seeing Jenny's and Leena's works.
Catherine, another knitter has also joined us just over the weekend. Her tension is practically so tight that we have struggle when we're attempting to do some stitch transfers onto another needle. Not only that, we're

dismayed

to find that Catherine has never been taught how to carry her working yarn!
Catherine was telling me that she hasn't had any success with cables and we figured that it was her tension that just prevented her from cabling properly! With the new technique, Catherine is able to knit much faster and more evenly. So she's off to start on her cabled project.
Just when I thought the above is an oversight: Jollin came over and showed me the same thing -- knitting without yarn tensioning. Both Catherine and Jollin happens to patronize the same store so it would seem to be that's the way they have been taught (or rather,

not taught

.)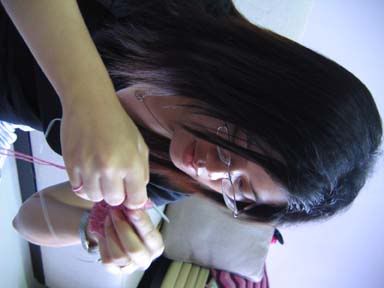 Prior to joining us, Jollin's experience has been 2 scarves and a sweater for her brother -- mostly knit and purls. However, on her first project with us; Jollin is attempting lace.
We're certainly having a wide range of projects started around here!
Sharing is sexy