Sunday mornings are great bonding sessions -- that's the time where the ladies dropped by for their group classes.

Just last Sunday, we had our Knitterly breakfast at 10am -- Jenny popped by; along with some others. By 10.30am, everyone's arrived and raring to go!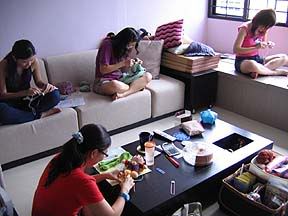 Chai Bee couldn't join us as she has signed up for The New Paper Big Walk event. She is probably the most active and athletic amongst us; last week we heard her talking about rock climbing! Me?! Don't ask me to exercise for that *word* does not exist in my dictionary!

Leena, on the other hand, has a wedding lunch reception to attend.


Diana started swatching on her new project.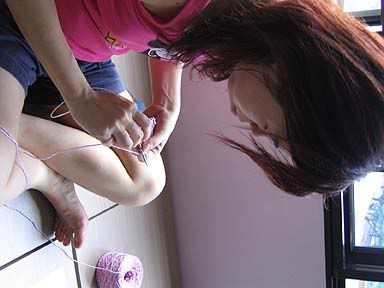 Perhaps it's the sun or the stars.... many of the ladies are right smack at the seaming phase simultaneously! Look at the pictures!



Feli got down to seaming her zebra top.
It was a tad too big as her tension is way looser than the original swatch she did. But we certainly didn't plan on ripping! There's also more work that needs to be done on it.


Fonny is also joining Feli at the seaming.
And so is Jenny.
Look at the green jellybean she's making? On request of her son! Talk about having supportive family! Apart from toys, Jenny is also working on other projects.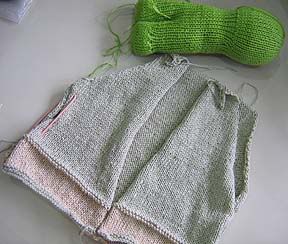 See the baby jacket?
Just an introduction of a nice contrast border spices up the overall look! She knitted the pieces up within a week! How fast is that?!
Jenny actually has more projects so let's hope she'll bring them along in the next session so we all could have a peek!
---
These are snapshots of the group class two Sundays ago.
Photo of last week's session

Fonny is still very focused on her green project. There's a lot of work on that piece.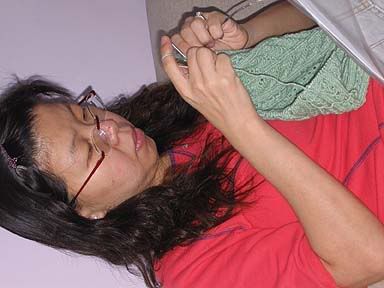 As usual, Leena, our speed goddess is wowing us with her new-but-going-to-be-finished project!
She also brought along her various WIPs.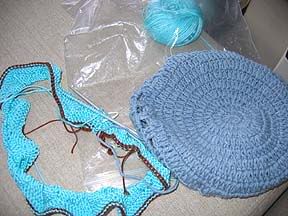 I am sure, you all are aware by now that a knitter's obsession is directly rational to the size of the tote she carries around. If you see someone with a big gray Harrods bag knitting, that's moi... Leena carries around a big comfy brown bag for her WIPs for KIPping too! [lol]
Chai Bee who has been really intent on finishing her boyfriend sweater before moving onto her second project had this sms conversation with me two Sundays ago.
Sunday, 1800hrs
Chai Bee sms'ed: I finished seaming the sleeves!
My reply: Hooray! Time to take a break!
Sometime mid-week
Chai Bee sms'ed: I am so bored! I've got no knitting to do!
Moral of the story:
Always start checking out yarn patterns and order your yarns way before you think you need to start knitting/crocheting them...You never know when they come in handy!
So Chai Bee did manage to get in the fray too!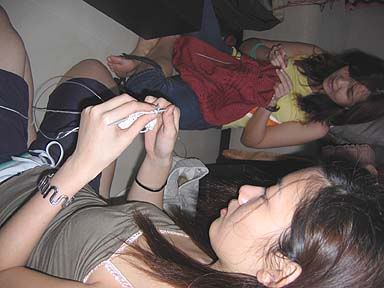 And of course, she managed to pick up a new technique along the way for this new project as well!
Oh, and here's Diana too!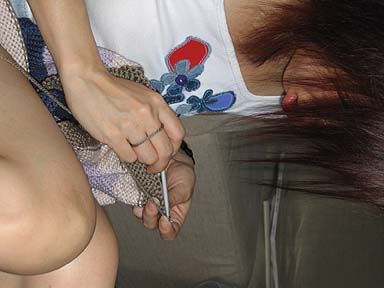 Sharing is sexy