Last week has been an exciting week. It was good to see progress from both Joey & Wendy. Joey's started a new scarf in a delicate pastel blue shade while Wendy has progressed on the navy blue sweater.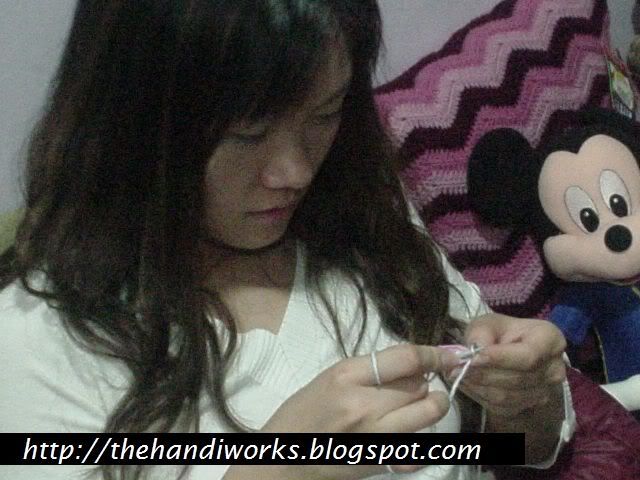 Here's a smiley

Joey

...way to go!
And

Wendy

, who's picking and correcting some stitches.
In case you are wondering why you don't see full features, these ladies are quite camera shy. But do say hi to them if you ever see them knitting! As you can see, knitting is for the modern women!
And if you do see a female walking around doing crochet work in fuschia & turquoise, that's me doing some commissioned crochet work. Yup, made to order.
Now, I am off to prepare for another crochet session this afternoon.

PS. Thanks to those of you who have expressed interest in my classes. Yes, I do weekend sessions as well and as usual, I need 2-3 days advance notice to ensure that schedules do not clash (these are sought after time slots). Weekday nights are fine as long as they don't run beyond 10pm (most of you work or study and the last thing I want is for you to have insufficient rest or feel tired the next day.)
PPS. I will be away from 29 Sep for a short holiday and will be back 5 Oct. So please let me have some advance notice if you wish to schedule your sessions on the 5th to 7th Oct.
Sharing is sexy