An adaptation from Mr Tim Gunn's famous catchphrase
"Make it work!"
from the hot series,
Project Runway
.
[That's Stephanie V's first knitting project progress!
See below for her story of how she started knitting.]
That's the ultimate aim for everyone who wants to learn to knit. This holds true especially for those who have learnt knitting previously and wants to re-orientate and improve their knitting skills.
But for knitting newbies, the expectations may vary as their goals can range from the conservative (i.e. requesting to
knit a simple stockinette scarf
before moving onto simple
toddlers
tops
or baby vests;
plain
or
patterned
) to the ambitious (i.e wanting to replicate / recreate a highly complex lace dress they saw in a shopping mall's window display or socks or gloves) as their first attempts.
Naturally, as a knitting/crochet instructor (or enabler; as I prefer to see myself as), my role is to help assess and provide guidance to ensure that each individual customer is able to take on projects they can accomplish satisfactorily and upskill incrementally over time.
When
Stephanie V
joined us in late August*, she had plans. For someone who has never done knitting, she came prepared; armed with several knitting patterns that she's has earmarked; keen for me to peruse and advise on what's appropriate as a beginner project.
I just do not believe in agreeing to teach customers whatever they ask for, especially if the desired projects are clearly too advanced.

The whole rationale behind private knitting class settings is to allow us to cater to your specific needs. We guide you to make informed choices, as opposed to giving you no choices. That's our point of view.

(Sometimes, my customers will relate their past experiences where they feel pressured into knitting scarves as first projects when they have absolutely no use for.)
She picked out this poncho-like top as she would have use for it during her December trip back home to Europe.
We spent most part of the first lesson getting her to master the basics, and then we move onto the actual project briefing. Apart from the shaping, we also made a modification for the project to be knitted in the round -- something that
Stephanie V
was very happy with. And I kept emphasizing the need to watch out for the possibility of twisted round joining. It happened to Chai Bee last time
but no one really knew
.
Alas, happiness can be short-lived. During the time when
Stephanie V
was knitting at home, I checked-in with her via sms on her progress and she indicated all is well. That is until....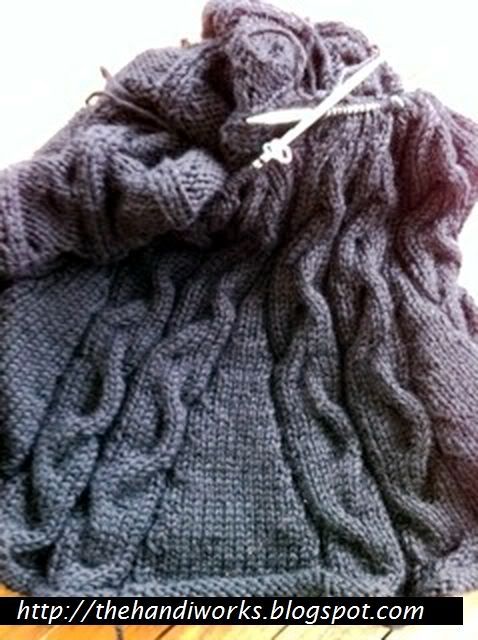 The week before she was scheduled to come in for her next knitting lesson appointment,
Stephanie V
emailed me some photos of her WIP. She couldn't understand why she can't have the project behave and wondered aloud if it had anything to do with us converting the flat pattern to a knit in the round pattern.
So I had to break the news gently to her and she took it ok, it seems. I really wished that she did the casting on and round joining at my place. That way, I would be able to supervise and ensure that the join is being done correctly to get her off the right footing.
The next time I saw
Stephanie V
, she had decided to start a new pattern using the yarn from the failed project - a cabled drapey long cardigan (although I swear the designer probably has a better name for it.) Isn't it stunning?
I can't wait to see when it's all completed!
** August was a crazy busy month for us and we could see it happening for October. My lesson slots are getting filled with new customer sign ups as well as existing customers with their Xmas projects commencement -- talk about planning ahead! That's why we only have 2 preview sessions scheduled for next month.
Sharing is sexy