Actually, it's
8 weeks from start to finish
in total since
Karen
actually started her first lesson with an entirely different project using a fine cotton blend yarn (3mm knitting needles) to get her knitting started.
This hoodie was started during her second lesson which she arranged a week later as she was raring to go.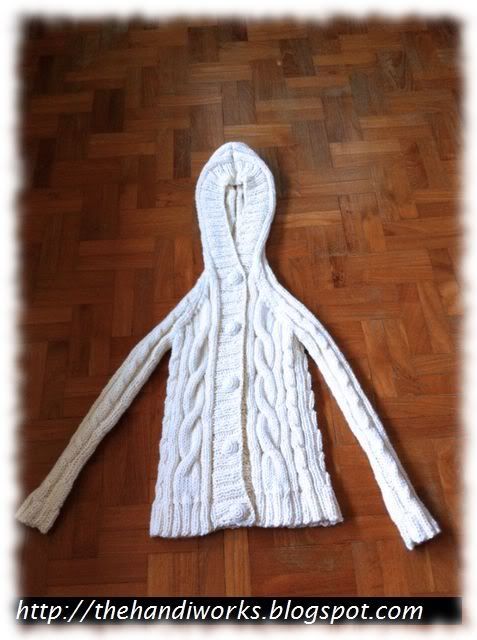 This project came about as a result of her travel due late September to a cold European country. What a better way to motivate oneself to get a project off the ground and towards speedy completion with a looming deadline?
After attending one of our
knitting/crochet previews
,
Karen
, who just recently joined us mid July comes with some prior knitting experience. But she concedes that her knitting was done so long ago (ten years, I believe) that she has even given away whatever knitting needles and tools she previously owned.
Here's a quick rundown of the knitting sessions she has to date.
15 Jul

First lesson: knitting re-acquainted with casting on, knit, purl; achieving even tension.




1st project start using lace thin yarn

21 Jul

2nd project start: A cable hoodie cardigan using chunky yarn (the project photo featured above)

03 Aug

Understanding instructions for starting armhole and sleeves

17 Aug

Learning to seam the sides, sleeves as well as joining the sleeves to the armholes

20 Aug

Joining all pieces and picking up to prepare for the hood start

02 Sep

Band pick up and ribbing

08 Sep

Buttonholes placement and creation
However, as proven time and again, knitting like cycling, is one activity that your fingers gain familiarity once you get back onto it. In all honesty,
Karen really took to knitting like fish to water
.
Not only does she read her instructions carefully, she does a great job interrogating how the shapings are achieved and made it her own task to chart her progress rather than asking for line by line instructions.
This is a photo of her project progress on her second lesson after starting the hoodie project.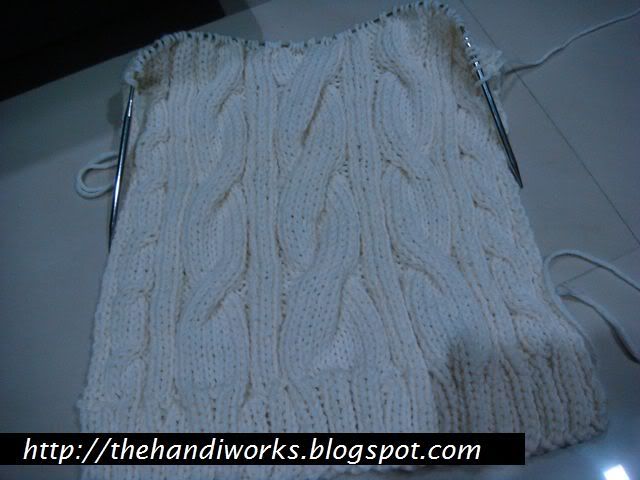 The time gaps you see in between
Karen's
knitting class appointments are the time
Karen
spends kntting at home with whatever instructions that she was prepped with before she comes along for the project's next step reviews and incremental instructions.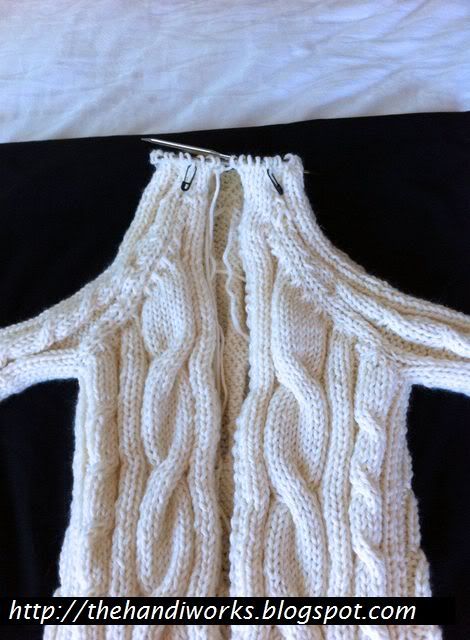 We may not operate a physical knitting shop but we do take our teaching seriously. We're big believers of empowering customers to understand and equip themselves with fundamental basics so that they can comfortably knit and crochet at home.
This is the pattern that we used as our starting point.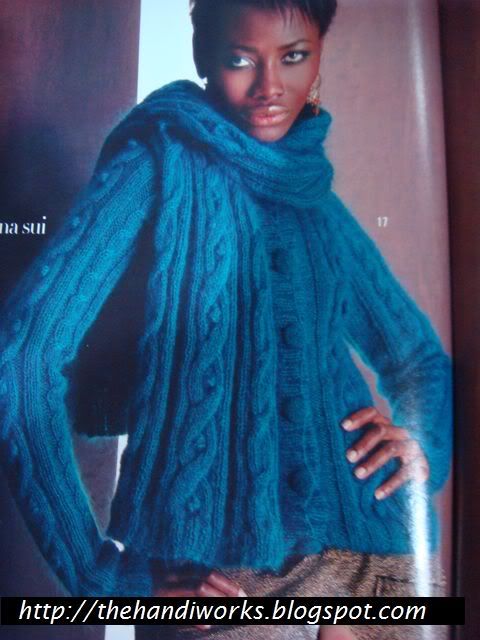 It's from
Vogue Knitting (or VK as we all prefer to know it) Winter 2005/2006 -- Anna Sui's cabled cardigan.
If you see this closely, you would notice that this project is not a hooded cardigan. That's why it took us an extra lesson session as I had to figure out how the cables would extend into the hood area.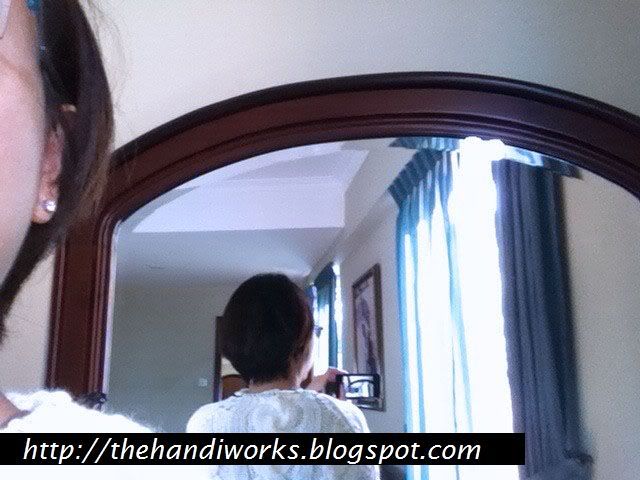 I
The key consideration was extending the design in such a way that it is logical yet aesthetically pleasing --
improvisation just happens frequently around here at The Handiworks
.
[Yes, I have been told countless times how anal I am when it comes to details.]
Seriously, details are all that makes the difference between a so-so hand knit piece vs a fabulous winner that becomes a regular go-to feature in the wardrobe.
This is a value add service that we offer to our customers. I know most knitting shops in Singapore generally does a standard fit (

without any waist or bust shaping

) and

none would likely be doing any pattern modification

of this magnititude. Some of my customers, who are ex-patrons of other knitting stores will attest to that.
That's the reason why our appointment-based lessons work. Customers can choose to work
as fast or as slow
to accommodate their lifestyles and
gifting
deadlines
and not be bounded to a regular timed-frequency which can be impractical at times.
But *Sheesh* These ladies are really knitting at breakneck speed! Seems like speedy knitting goddesses do exist, even in Singapore - check out the projects by knitters
Wendy
,
Leena
,
Jamie, Chai Bee
etc.
During her last session, upon clarifying how the buttonholes would be positioned and worked, Karen then bundled the entire project home to finish the buttonband cast off as well as tucking in all the tail ends.
If you ask me how this project could be improved, I think the sleeves were knitted at a tension that is a tad tighter than the main body; something that
Karen
also agrees. But given her excitement and zealousness to get to the finish line,
Karen
was willing to overlook that point.
Since wool is rather forgiving, both of us are giving the post-wash blocking to do its magic on stretching. If that does not work, then a quick fix plan is in place.
Karen
keeps saying that she's never been pleased with her past projects. Nonetheless, up to this point,
Karen
is incredibly pleased with her FO. She was beaming with joy when her hubby actually took notice and complimented her on how excellent this project was turning out to be.
Now, we can't wait to see the finished post-wash cardigan!
PS. Sorry for the lengthy post and multi-links! Sometimes when the blogging inspiration hits, it's better to let the words flow. And there are just so much great journeys and customer experiences (from way back in 2005 when we started) that we had to share.
PPS. If you like any of our articles, please do share by doing a facebook like! Thanks so much.
Sharing is sexy