Despite learning and knitting at another shop for more than 10 years,
Karen
never had the opportunity to learn crochet as the store owner didn't want to teach.
This surprised me a little as I always felt that knitting and crochet goes hand in hand. I mean, it's almost like saying
"I would teach you how to stir-fry but steaming is a no-no."
She was pretty adamant about learning to crochet as she found several patterns she liked which incorporated both crochet and knitting techniques. Besides, she was impressed by the shaping we add to our various projects -- something that she didn't had the chance to learn as the shop do not impart.
So she chose one and we began to go about
doing the measurements
and
working out the necessary calculations for the right fit
.
As she had always been
knitting in the round
, we also had to
adjust the pattern chart to align properly
.
This probably shows you the pattern clearer.
In order to better fit to
Karen
's body, we also
altered the original pattern
-- the original pattern calls for the knitted bodice to end 3 inches below the bust (kinda just hitting the end of your ribcage). So we decided to crop the knit portion so that it just hits just below the bust line.
Interestingly, this pattern is
knitted from bust up and then crocheted downwards for the main portion
-- worked in 2 opposite directions.
The knitting aspect was quite a breeze for
Karen
, except at both sides where we had to incorporate some shaping.
Oh, and did I mention we also
changed the sleeve cap shaping
too?
Initially Karen found it a little daunting when she started her lessons. She was so used to being provided full instructions and just literally knitting without analyzing how the calculations are worked that she was panicking slightly.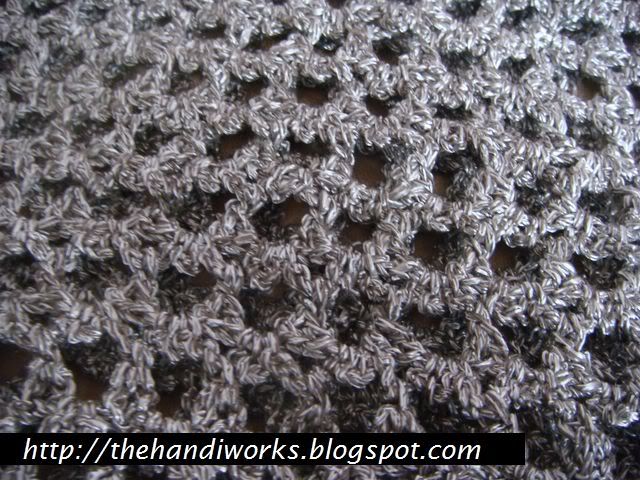 But after several lessons, she agreed that the learning experience has been very liberating -- our coaching style made her think and she felt she was understanding what she was doing much better. To the point where she can make her own informed decisions as to when and where to make minor alterations as she measures her progress.
See her painted nails? They're in my favorite shade.
I am always in awe of knitters and crocheters with pretty manicures -- I am always worried about getting them chipped prematurely. But I seriously want to get one done soon!
Sharing is sexy