When we think teapot cozy, they look like this:
Being English,
Louise
loves to indulge in her cuppa whenever possible. This is a garden-themed teapot cosy or teapot warmer that she knitted to complement her teapot. And to make the tea cosy more befitting of the theme, we also adorned it with some crocheted flowers.
I am sure it's a great conversation piece.
In fact,
Louise
isn't the first person to think of this. Sometime back,
Jamie
told me of her plans to gift her best friends with the Japanese tea set.
The challenge though is:

how can she personalize the set?


Apart from just being ceramic white, there isn't much one can do.
But we found just one key area that we can overcome...
how to insulate and rein in the heat, while making cup holding bearable
. We also needed to ensure that the teapot warmer and cup huggers can be removed for easy washing.
If you have been using Japanese tea cups, you will notice that they can sometimes be scorching hot to hold when you do your first pour.
Hence, this teapot warmer and cup hugger set design: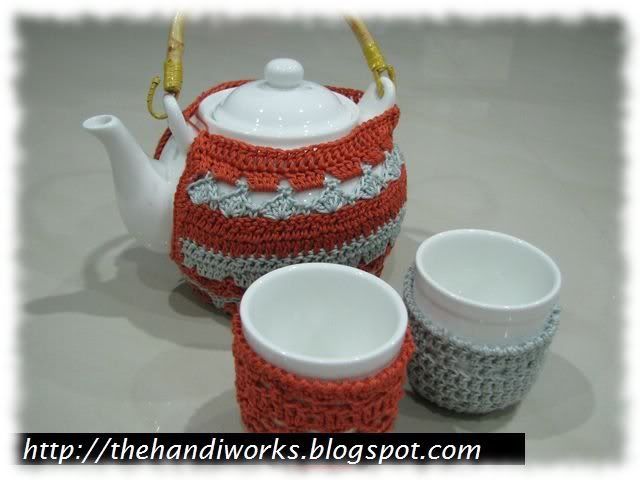 If you think doing one set is challenging, Jamie told me that she enjoyed it so much that she bought set #2 for another friend as well!
As you can see from both sets, we have used completely different crochet patterns and designs. As for the
pattern source
? There is
none
as we did free-style crochet but here are some general steps we went through.
Jamie

set out to select the color schemes to match her friends' interior decor.
Then we looked at some crochet magazine for inspirations and chose the appropriate

yarns for the look we wanted to achieve.

Then I worked out the needed shaping to ensure a snug fit for both the teapots and cups.

Jamie

had the honor of doing the crochet work.

Are we both happy and satisfied with the results? Absolutely!
The colors and yarns chosen have added the much needed colors to the set, making them completely unique to their respective owners.
In fact, I am so inspired that I am deciding that my real quick FOs for this month shall be a set of crochet coasters for my brother's new home.
Sharing is sexy