Many are often daunted by the sheer idea of knitting up garments on their first projects -- they imagine the amount of complexity and time that needs to go into it and then shiver in horror. And it really doesn't help that most pattern books and shops out there tend to suggest that newbies start with scarves as beginner projects.

You know how I feel about this... What do hand knitted scarves
have to do with Singapore's weather? When the temperatures are heating up so incredibly, it's just impossible to have any use for them locally.

Just to get the record straight, I don't diss the creation of scarves or any rectangular but I personally do not understand why beginners or newbies have to start with those projects. If it's a comfort level request on the customer's part, I understand but not when it's

a mandate set down by the storeowners or instructors

.

In fact, when the cooler weather comes around or when the gifting urge hits, scarves & shawls are often the solution. Other times, it's a great project to distract those who have high challenging or complex works-already-in-progress -- which happens from time to time.

(We'll leave the discussion for how much rip back I had to do on one of my cabled projects another day -- all just because of the high tension I was subjected to from the people around me....deadlines and all.)

Here's some photos of the scarfs (or scarves?!) the gals knitted. Some are crocheted.




Jamie

wanted to take advantage of those in-project breaks so this simple mindless stitch is a great no-fuss solution for her. But seriously, the needles are almost permanently glued to her hands. She created this scarf in no time!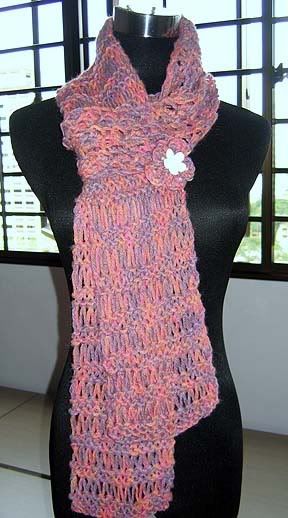 Mag

also knitted one up. Isn't it beautiful? There's a close up shot as well.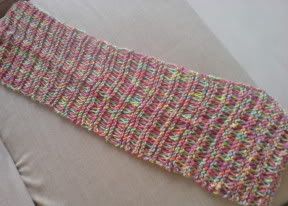 Variegated colors lend themselves very well to simple repeat stitches. But having multiple strands of yarns in different colors result in a very different look.

Linda

knitted a diagonal shawl for her mom. Can you guess how many colors are involved?


The answer: 3 -- light lavender, purple & gold, brown. Isn't the result amazing?



Leena

decided that multi-colored scarves are not quite her. So she used a railroad yarn to create this uber soft version.


She also decided to look into her yarn remains and whipped up this pairing. The 2 stranded crocheted scarf looks highly textured and really stylish!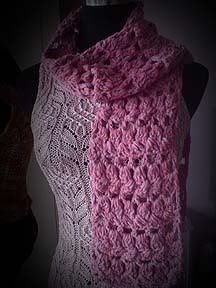 In case you are wondering why the color hues are that mostly pinks/reds/purples, we all do have similar color preferences! But there is a wider spectrum actually...I'll show you those the next time!


Sharing is sexy