We're recovering from the post-festivities fatigue. I never really enjoyed doing shopping during crowded periods and the year-end post-Christmas promotions and sales seem to bring out all the people that I never know existed.
But with the fesitivities, it also means that most people go on leave. So there's a few finished projects to show.
Shawn, who has gone back to the UK, emailed me the 3 baby sets she completed.
Aren't they cute? This speed queen also does some really fast knitting! I heard she's onto her 4th project. The word is out that she is also planning some matching teddy bear outfits! How sweet is that!
Speaking of baby projects, JoleneS also emailed me the great finale photo of her very

first crochet project

- that's from scratch, a total beginner with no prior experience before she started this piece.

Isn't it cool how much she has progressed? I am so pleased!

Now, she'll be concentrating on her hubby's vest -- her first knitting attempt.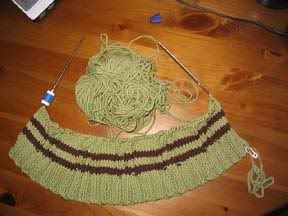 Louise had a slight delay on poncho #2 which was originally meant as a Christmas gift. Her friend whom she gifted the earlier green/lilac poncho was really touched by her kindness. And this has spurred Louise to finish poncho #2 last week.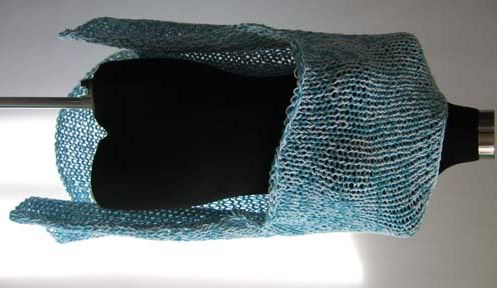 Isn't the color combination awesome? I really like it.

And so does Susan, who decides that a poncho is what needs to be added to her list. But of course, she has brought along her pieces -- completed projects as well as works-in-progress.


Yes, that's 2 projects -- a skirt and a poncho!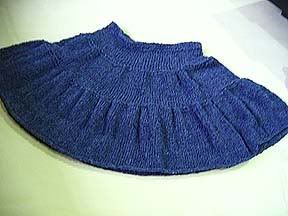 The skirt is so pretty and wide at the hem; best of all, totally wearable in Singapore! I really like the look; so does her daughter who has so concluded that her mom, Susan's knitting these days are so cool that she is picking out more projects.

In the meantime, Susan is back again knitting her own garments which are ready to go into the seaming stage.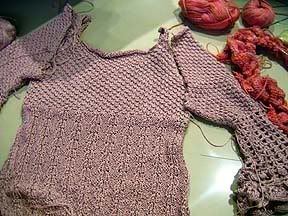 Looks like everyone's planning to have new clothes for the new year!
Sharing is sexy