The weather recently have not only been very condusive for putting on knitwear, it's also ideal for indoor knitting. (Though I'll love to sit in outdoor cafes anytime!)
Serene has finally finished the delicate crochet shrug and worn it to her friend's wedding dinner.
I would sure love to see how she has coupled it with her dress!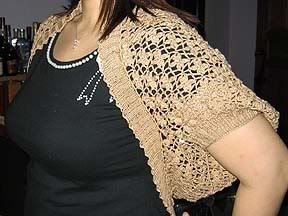 I've been told that her MIL has been eyeing her shrug for the whole time she was crocheting it.
Jenny also has debuted her frilly cardigan.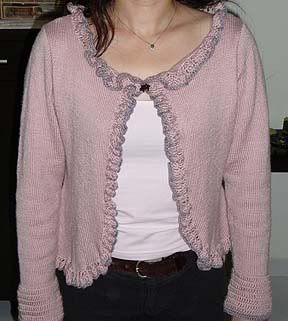 Even though Jenny also proclaims that she gets hot easily, this cardigan came in really handy during the recent rainy spate. In fact, she has worn and washed it a few times by just throwing it into a double laundry bag along with her regular washer loads. Really convenient!
In fact, Jenny's working hard on the knitted purple top which she is planning to wear during the Chinese New Year (which falls on Feb 18, 2007.) Speak of early planning!
Other than that, we also did a housecall with Sharon -- no photos. She has a lovely patio in which we lounged for a bit before we had to relocate back indoor for the rain was starting to pour that afternoon.
YvonneS also came for her lesson and spent nearly 2 hours browsing through the various magazines before deciding on the first project -- it'll be a crochet top for her little gal. I can't wait to see how it works up!
Sharing is sexy