More projects are getting started last week. The good news is that there seems to be some sort of crochet revival as some of my students are *finally* getting convinced that crochet is really just as easy as knitting -- as long as you get started on it!
[That's the same kind of

inherent fear

when you start out as a crocheter, you will think that learning to knit with 2 needles is daunting!]

Personally, I see both knitting and crochet as complementary skills so I always encourage my students to move into the other skill whenever they show any interest.

DianaH, who debuted on the 13th July has made a huge progress on her work.



This is her progress last Monday. And just last Friday?
I do like the idea of using a work laptop for scale. *grin*
Last Sunday we had a pretty chill-out group class. Isn't it amazing that we can still

knit and crochet week after week

even though Singapore pretty much has what is deemed as *non-knitting/crochet friendly weather* by most?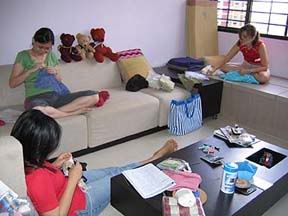 Chai Bee

couldn't turn up as she was having a fever that wouldn't go down the night before. Poor gal.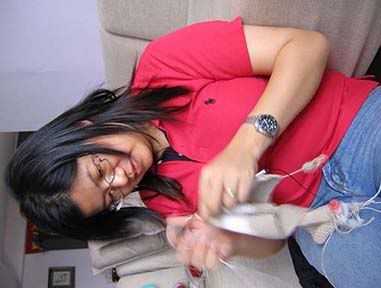 See Jollin knitting away at the speed of light?! She's loving the use of the bamboo yarn; it's so incredibly soft -- even before it's gone in the washer!
Eunice, who has also done some crochetwork previously, is also encouraged -- seeing Diana's progress and of course, our
Speed Goddess aka Leena's work of art
[click the link to see photo].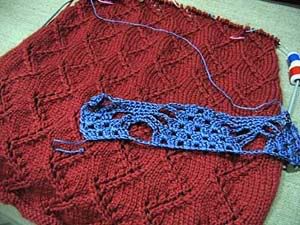 Eunice has decided to start this crochet project as an alternative project as she's making slow progress on her knitting piece (see background?) -- the lace pattern is causing some minor grief as she is working on the shaping.

Once she got started, Eunice got hooked! (yes, pun intended) I can't wait to see her progress soon!

And our Speed Goddess, Leena had brought along projects to be taken off the needles!
A droopy hat for her fiance...aww...look at that!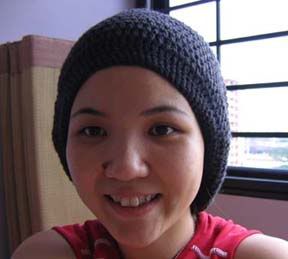 And I got Leena to attempt self-portrait snap on this one, so I take the blame...
We also got around to finishing another important milestone:
THE 100% HANDKNITTED DRESS
BY LEENA THE SPEED GODDESS!
If you want to see how the dress being modelled, watch this blog really closely...you might see it soon!
Of course, Leena again gone off to start some new projects again! I'll let her WIPs tell their stories the next time she comes around.
Sharing is sexy