It's so hard to convince non-knitters (and sometimes even knitters like-wise), that knitting had some male origins.

And so, many still do raise an eyebrow when they hear a man who knits... But still, we have them. Here's one:


The other gals are curious as to his project of choice. Everyone's speculating on why he's picking up knitting.
Sorry to disappoint you gals -- Chong Yak is learning how to knit as he's curious. And he's not doing it for the sake of a galfriend or so. But as you can see, men do knit so please feel free to send your men my way if you want them to knit you a cardi or so!
But of course, we do have more ladies interested in this craft. Eunice is one -- our new student.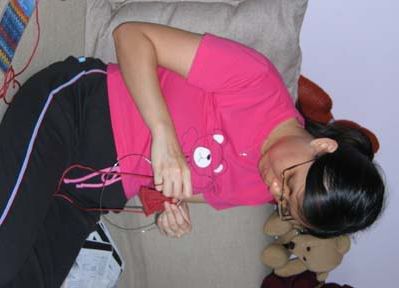 She's selected a lovely cardi with a simple lace pattern to start with. Eunice has only known knit and purl stitches before this so the lace is her first attempt. The challenging parts of the pattern are plenty -- short-rowing, curved jacket bottoms. Oh, and did we mention the sizing modification we have to make as well?
We had an exciting weekend group class over the weekend. And lot of photo updates for some WIPs -- details to come later.
Sharing is sexy