The past 2 weekends, we have had group lessons organized. With 3 ladies all in varying stages of their projects, we have all basically strewn clutter spread our things around -- on the coffee table, the floor and the platform.
As you can see, we *do* get very comfortable around here during lesson time.
Christine is simultaneously working on both her sari bag, and alternating it with her embellished bag. (See that in the background?)

Jenny, as usual, is all comfortable sitting cross-legged on the floor near the fan -- her favorite spot in the living room.


Leena has once again started on a new project.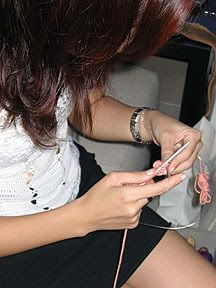 Watch that orange yarn in her hands as the story continues...
---


Just over this last weekend, we have the group session filled to the hilt.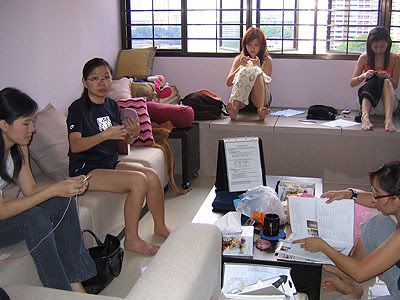 There's FeliciaW, Fonny, Leena, Chai Bee and Jenny.

I asked FeliciaW to drop by as I wanted to see how her boyfriend sweater looks like when it's finally finished & all washed -- she was planning to give it to her boyfriend when they meet up for dinner in the evening. Chai Bee is very excited to see the completed sweater as she's using the same yarn too.


Well, do you reckon FeliciaW is here just to do show & tell?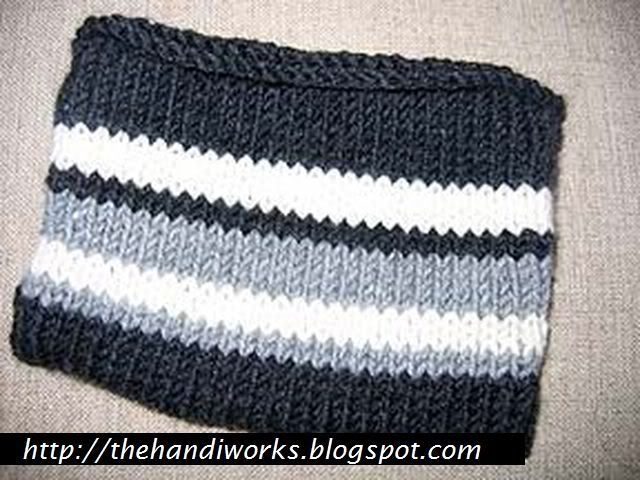 She brought along this little cute matching pouch that she knitted from the leftover yarns. Boyfriend Alan gets the sweater, she gets the pouch.
But FeliciaW also decided that her best friend deserves something from her too so casting on it is.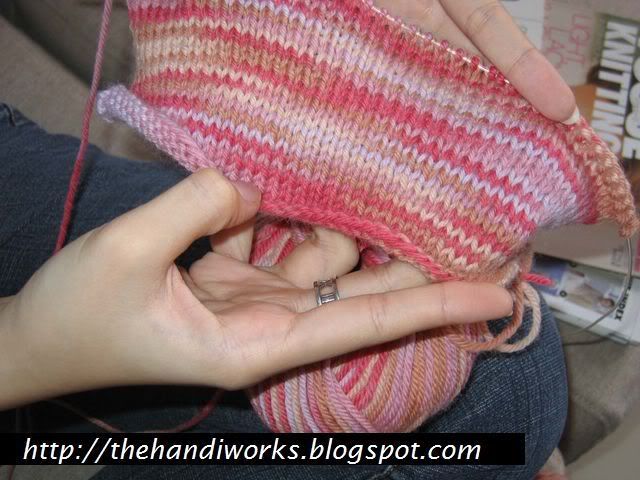 See how that variegated yarn works out so lovely?
Fonny also showed her projects in progress.
Leena, the speed demon leaves us all stunned in awe with her brought along items. Remember the orange yarn project she just casted on during the previous week's class?


Exhibit A: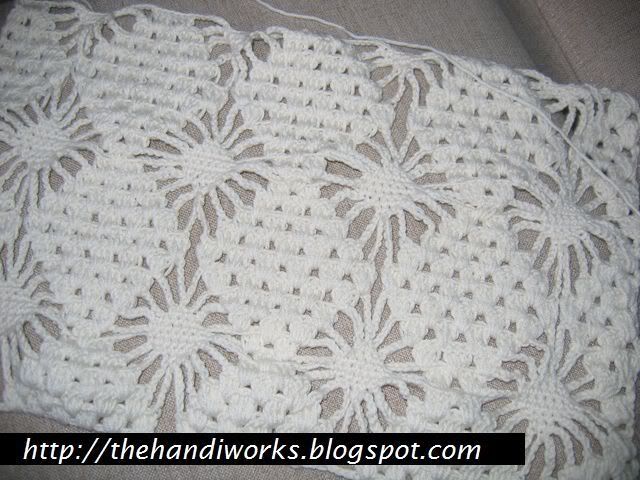 This was her last week's progress -- she started on 9 Apr.
And this week, she's already working on finishing!
And you want to see more?!
That orange Roma y
arn -- she has already knitted & cast off on the front piece! This photo also gives you a better idea of the various projects
Leena
has on hand. The only project that has stalled seems to be the green Roma project which has cables & yarn overs that requires more attention so it's not a commute project.
I tell ya; her knitting & crochet needles are on steriods!
Group lessons are really fun if everyone is relatively experienced. So when everyone brings along their projects -- we all end up checking out each others' work and going through the various magazines for more inspirations!
Sharing is sexy