When Christmas is around the corner, many tend to think of quick projects they can create with their hands to gift to their loved ones. This is especially the case if they are crafters; be it scrapbooking, quilting, knitting or crochet.
Reasons why they do that are in another blog post (clickable link).
I do both knitting and crochet and both activities do take time, depending on the size and complexity of the projects.
So for Christmas, the top of the lists would be scarves. Although I never really resonated with scarf gifting, unless the intended recipient travels to cold countries often; scarves still seem to be preferred by my customers. Singaporeans are well-travelled, I must say.
Here are some of the past scarves projects our customers have gone with.
[Do note clicking on the photos will bring you directly to the specific blog entry.]
IN THE NOVICE/BEGINNER OR MINDLESS SPEED KNITTING CATEGORY
Frilly scarf for galfriend?
It takes only a couple of hours with just a SINGLE ball! (Yup, one ball of yarn.) And it'll work very well in our summer as it's not wool.
Good ol' knitting?
The random garter rows Paw Chuen used for her baby blankie is another great idea that can be easily applied to scarves.
Working with multi-colored yarns
These yarns can create looks so fancy you wouldn't believe it! (Both link to the same post.)
Fancy stripes?
Try this add-stripes-as-you-wish approach by Yanwei.
Cable goodness
Need I say more?
FOR THE CROCHETERS


Row by row crochet
[Scroll down the entry to the last photo.]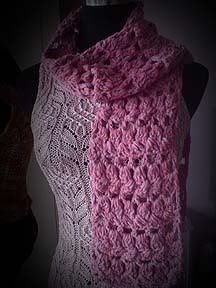 Granny squares turn chic winter scarf wear?
Many think blankets but we think smaller, quicker and faster projects!
A little feminine accent
Floral motifs brighten the day.


Fancy some artistic crochet neck accessory?
Then check out freeform crochet here...

There are lots more but most of them are either projects which I didn't have the opportunity to take photos of or residing in my harddisk at home -- sometimes it's just challenging to be taking photos while conducting lessons at the same time.

If you are looking for something more relevant for Singapore's tropical weather, we have other projects too. We'll share more in the next post.




PS. There's been an additional preview session added - December 06, 1pm. Please check out our preview page to register -- attendance is free.


Sharing is sexy