Want to see how big it is?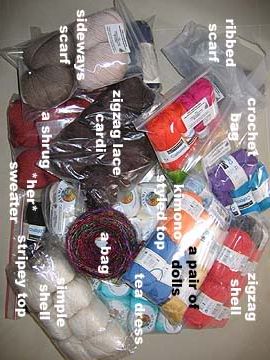 Well, they're *not* mine (not sure whether if I should be upset with this one though my hubby's relieved to know they are not for me!) -- all the yarns here you see are already spoken for by our students and earmarked for the various projects.
I have labelled the various yarns with the intended projects so that you can have an appreciation of the wide variety of projects we work on here at The Handiworks! There's an interesting mix of yarns and project types so there's a lot of anticipation on seeing finished projects!
On the project types, we have:
- cardigans,
- shrugs,
- scarves,
- tank tops or shells,
- sweaters
- dolls (or toys)
and even

a tea dress

!
On the yarns, we have:
- cotton/silk blends,
- 100% mercerized cottons,
- 100% merino wool
- merino/cashmere blends (ooh...luscious!)
as well as the

renowned Himalayan sari silk yarn

!
We have some new students that just joined us so you'll hear more about them and their projects too!
Of course, we won't forget to write about the story behind the tea dress, once we make some headway!
Sharing is sexy