What happens when you have a few ladies sit together? Lots of laughter, witty retorts and "ah ha" moments.
We had

Jenny, Jolene & Wei Joo

come in last Sat. Their objective: to learn how to crochet.
Jenny

's been a knitter and she's tried crochet but never quite got it to work.

Wei Joo
, on the other hand, picked up crochet when she's young but has stopped for a while. As the story goes, "Mostly forgotten, need practice to go back on (crochet)."
Jolene

's brand new into this foray.
Here's all of us sitting around the coffee table. On the floor since everyone decided it's most comfortable. (Right, everyone *happens* to be looking very intently at their work...) No one wants to be recognized [grin] but we'll let their projects do the talking.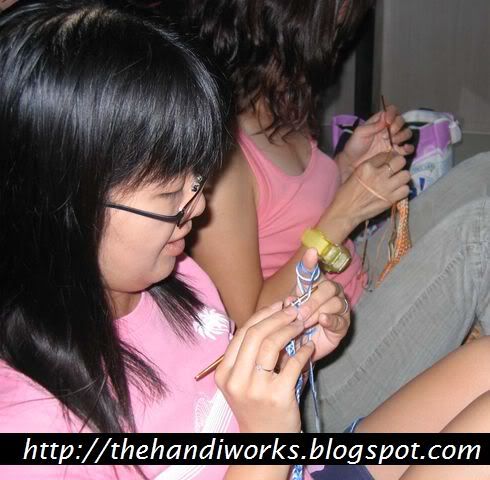 Really comfortable as you can see them folding up their legs.
Here's a look at their projects: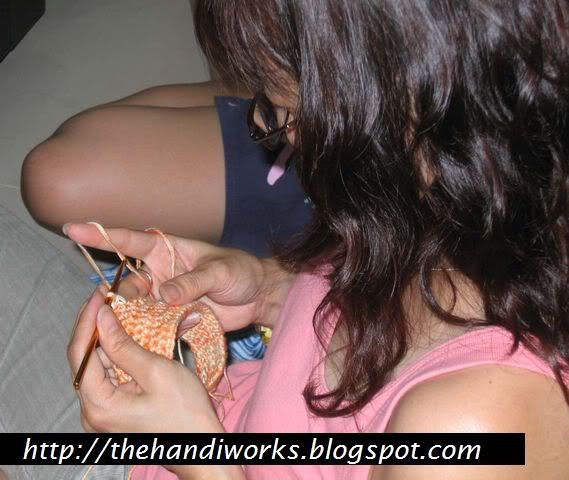 Do you realize this lady is a left-handed crocheter?
I'm not telling what projects they are working on. Let them bring in the completed pieces and show you the next time round!
Sharing is sexy