The most frequently requested "learn to knit or crochet" items for babies are usually:


or mini Mary Janes (for little baby girls)
Many customers reckon that due to their small size, they can be easily started and completed quickly.
The truth is far from it.
What few customers realize is that the smaller and the more detailed the items are, it means that:
the

shaping requirements are more frequent

and
one needs to be reasonably

familiar with basic knitting or crochet skills; producing even tension

and

knows how to read the instructions

which involves turning or picking up techniques

In short, that's probably an intermediate skill level project; unless you are looking at just plain tube socks or leg warmers that just go round and round straight up.
Jasmine decided to create a pair of two-colored faux Mary Jane baby socks.
Ok...imagine a pair.... Most of the time we teach customers the techniques on one and the customers go back home to re-create/finish up the other piece. That's also why you saw
single bedroom slippers in the other blog entry
.
It took several lessons to get to completion. Of course, the great thing is that
we do not limit the number of projects you can have going at any time
(no, we do not charge on single project basis)
so she was working this along with the bunny hat and other 2 projects during the whole time.
At one point,
Jasmine
was at my place figuring out how to work the top of the foot as it involved color work and picking up techniques.
That's kinda how they looked at one stage when she brought both of them back for the seaming work. We didn't have the picking up stitches photos as it's just too challenging to manage the camera while both Jasmine and myself are huddled together as I attempt to demonstrate the techniques for her close up learning.
Later, as she moved onto the handling and re-creation, I was monitoring and scrutinizing her movements pretty closely (that's the advantage of one-to-one classes!) to ensure she is executing the techniques properly.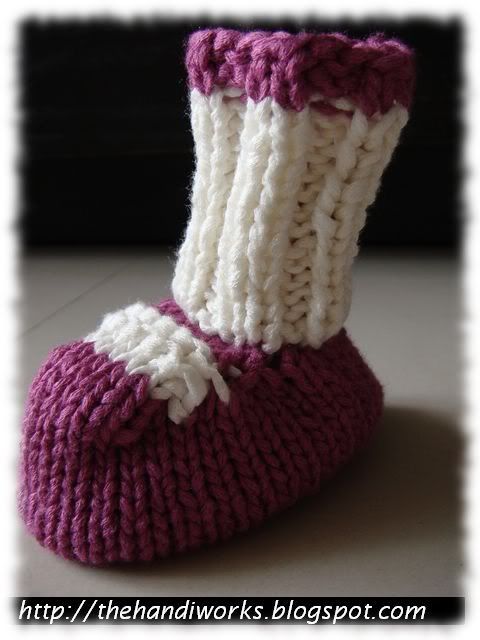 I know it looks huge but in reality it's rather tiny!
Sharing is sexy