Isn't it ironic that though Singapore is known to be a tropical island with hot humid weather, we knitters and crocheters are often in the quest for appropriate shoulder cover ups?
Blame it on the blasting air-conditioning in the malls and the cold-blooded colleagues who prefers to keep the temperatures in the offices so low that you just simple go "burr".
As they say, "if you can't change the environment, adapt yourself to suit the environment."
When one think of shoulder cover ups (winter or cold weather wear sounds a tad too extreme);
cardigans, shawls, shrugs and capelets
often come to mind.
Here at The Handiworks, the ladies often jazz up their office wardrobe with some of their handstitched creations.
At times, I find myself hard pressed to get a good fitting cardigan. I have skinny lanky arms and a bodyframe that doesn't quite have the curves to fill out a cardigan like most ladies do.
With cardigans, you will have to fiddle with getting your arms through the sleeves and worry about snagging it with your bracelet, ring or watch. Or having weakened buttonholes that just makes the cardi edging look unkempt. Try slipping on your cardi when you are in a crowded bus or onboard a plane and you'll understand my annoyance.
So I prefer the use of shawls and capelets. They are easy to use -- you just fling them onto your shoulders and voila! No more cold shoulders.
In this post, I will share some of the capelets -- there is a crochet version and the other is knitted.
This piece is crocheted by
Jenny
back in 2009. It was a pattern from Interweave. If you had been reading
my other blog
, the mini capelet I crocheted for my niece was inspired by this pattern.
Isn't the color gorgeous? She had used a worsted weight merino blend yarn and the resulting piece is super comfy and cushy!
On the other hand,
the piece that Chai Bee
has been working on is almost done! (I say almost...because like me, she's also on the search for the most befitting closure.) A shawl pin, perhaps?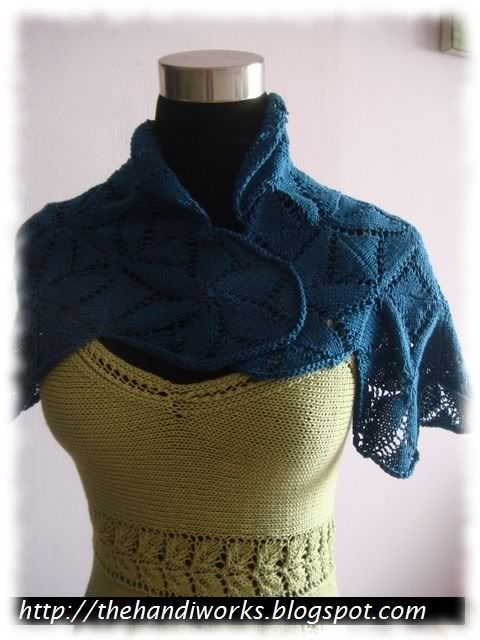 Want to see how it looks from the back?
Very intriguing and eye-catching, isn't it?
Now that it's approaching year end again, I am feeling the mood to get one started for myself!
Sharing is sexy